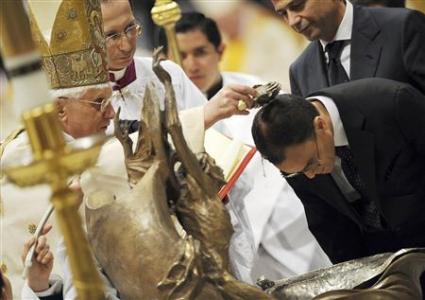 Magdi Cristiano Allam, an Egyptian-born Muslim whom Pope Benedict publicly baptised at Easter five years ago in St Peter's Basilica has announced that he is leaving the Church because it has taken too soft a stand against Islam.
"My conversion to Catholicism, which came at the hands of Benedict XVI during the Easter Vigil on 22 March 2008, I now consider finished in combination with the end of his pontificate," Mr Allam wrote on Monday in the right-wing Milan daily, Il Giornale.
The 61-year-old journalist and right-wing politician has long been an Italian citizen. He said he had pondered his decision to leave the Church for some time. However, he affirmed that the "last straw" was the election of Pope Francis, which he said was proof that the Church is "troppo buonista" – excessively tolerant.
"The 'papolatry' that has inflamed the euphoria for Francis I and has quickly archived Benedict XVI was the last straw in an overall framework of uncertainty and doubts about the Church," he wrote.
"The thing that drove me away from the Church more than any other factor was religious relativism, in particular the legitimisation of Islam as a true religion," he said. Mr Allam said Islam was "an intrinsically violent ideology" that had to be courageously opposed as "incompatible with our civilisation and fundamental human rights". "I am more convinced than ever that Europe will end up being subjugated to Islam just like what happened beginning in the seventh century on the other side of the Mediterranean," he warned.
The journalist's baptism in St Peter's Basilica was a highly guarded secret until the day it occurred. Mr Allam said Archbishop Rino Fisichella, head of the Pontifical Council for the New Evangelisation, "personally accompanied" him to accept and be instructed in the Catholic faith. His godfather and confirmation sponsor was Maurizio Lupi, a high-ranking member of the Forza Italia party founded by former Italian prime minister, Silvio Berlusconi.