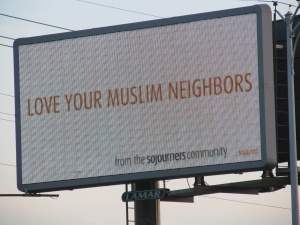 A new message encouraging local residents to "Love Your Muslim Neighbors" is slated to go up on a South Church Street billboard by the end of the month.
The message is being placed on a billboard at 1015 S. Church St. by a self-described Washington, D.C.-based Christian advocacy and education organization called Sojourners, according to the group's communications director, Tim King.
King said the organization decided on Murfreesboro as a location after several residents living within a 100-mile radius of the city took notice of the group's message on a billboard in Joplin, Mo., and began calling for one to be placed here.
The billboard on which Sojourners placed its message in Joplin was just three blocks from where six people were shot dead outside a Sikh gurudwara.
King said the people who contacted the organization from the Murfreesboro area told Sojourners of the controversy that surrounded the building of a mosque here.
"I think the people from your area just saw the conflict and controversy and they wanted to put out a very different message," King said, adding that the message is that "Jesus said the greatest commandment is to 'love thy neighbor.'
"There were no other criteria or stipulations," King said.
King said Sojourners is an organization that "does not believe we all need to believe in the same thing to get along."
"Even when people believe in different things, they can live together in peace," he said.
The billboard is set to go up by Sept. 24.