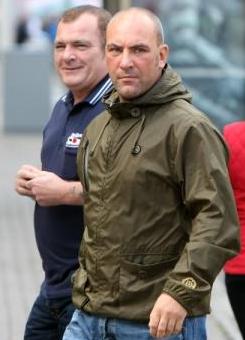 A group of men linked to the English Defence League have been fined for chanting racially motivated abuse after attending a football match. The six, from south-west Durham, were found guilty of shouting highly inflammatory chants at Middlesbrough railway station.
Yesterday, more than 50 members of the far-right organisation gathered outside Teesside Magistrates' Court to show their support, and anger flared when court officials would only allow five of them in the public gallery. There was a heavy police presence in the town after supporters met in a nearby pub before going to the court.
The court heard how the men, who represented themselves at last month's trial, shouted abuse at the station in December last year, after Middlesbrough's game against Brighton. The court was told they were singing EDL chants and when they started singing a highly inflammatory religious chant, a police officer decided to eject them from the station. As the group left, one of the men, Christopher Caswell, 32, became aggressive and raised his fist and a British Transport Police officer responded by spraying him with CS gas and calling for police back-up.
Paul Ross, 47 [on left of photo, with Shaun Bunting], who told the court he runs the south-west Durham division of the EDL, said the group had just been taking part in a bit of banter.
Kevin Smallcombe, in mitigation, said: "All of the defendants will recognise the decision that this court has made, but that is not to say it is accepted, and there will be an appeal."
Elizabeth Hutchinson, the chairwoman of the bench, said: "You knew exactly what you were doing and you deliberately set out to use racially abusive language and intimidate members of the public, in particular the PC who was carrying out his duties."
Jak Beasley, 23, of Cedar Road, Bishop Auckland , was ordered to pay £970 in fines and costs; Caswell, 32, of West Auckland Road, Darlington, was ordered to pay £970; Ross, 48 of Auckland Wynd, Shildon , was ordered to pay £1,040; Shaun Bunting, 33, of Fenhall Green, Newton Aycliffe , was ordered to pay £935; Ross Williams, 23, of Ebberston Court, Spennymoor , was also ordered to pay £935 and Dean Spence, 22, of Yew Close, Spennymoor, was ordered to pay £970.
When the fines were announced, one supporter was ordered out of the public gallery for swearing, and others started chanting when the six defendants left the court building.
Northern Echo, 15 September 2012
See also "Middlesbrough railway station race abuse group to pay £6k", Evening Gazette, 15 September 2012