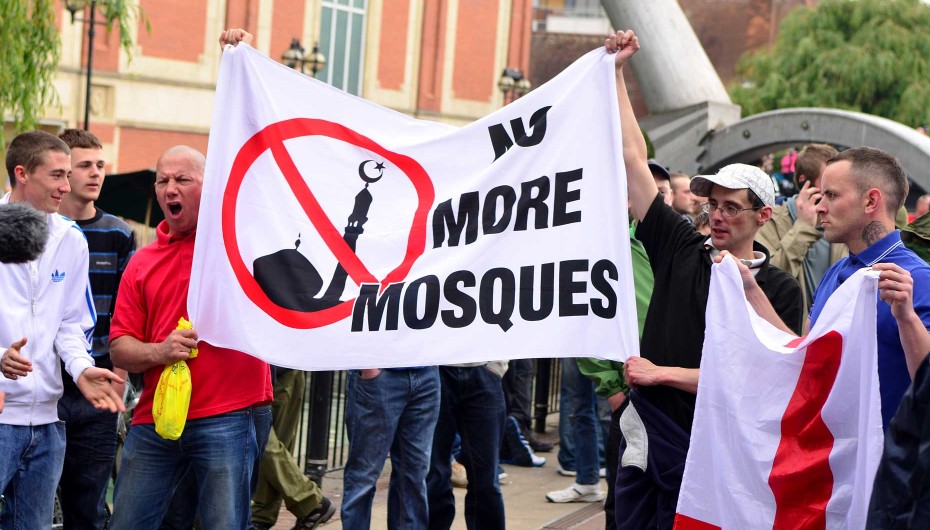 Photo: Steve Smailes for The Lincolnite
Hundreds of people took to the streets of Lincoln on Saturday, June 8, for a protest against plans to build a mosque in Lincoln, as well as a separate anti-racism demonstration.
Around 250 anti-mosque protestors were in the City Square area, while around 100 people took part in the counter-demonstration in Cornhill. There was a strong police presence in the city throughout the day, with Lincolnshire Police getting assistance from Thames Valley and Metropolitan Police forces. No arrests were made.
Both demonstrations had several people speaking for their cause, though the two groups almost clashed twice near Cornhill, where mainly chants and shouts were exchanged. Both protests dispersed at around 3pm, with police escorting the remaining anti-mosque protestors to a pub down the High Street, where they remained for the afternoon.
Lincolnshire Police Superintendent Paul Gibson said: "A significant amount of people protested peacefully in Lincoln today. Although there were very small pockets of minor disorder, our officers engaged proportionally and there was no need for any arrests. From a policing perspective, it has been a successful operation."
---
See also "Anti-Islam protest march in Lincoln", Lincolnshire Echo, 8 June 2013
According to the Echo, one speaker at the EDL rally stated: "We have got to stop the onslaught of Islam. If not, your children and grandchildren will have no future in this country. Muslims want to take over the world, they want world domination. If this mosque is built, there will be no English people in three to five years in the area around it as it will all be Muslim."
Another said: "England has become a battleground and if we do nothing then your children will be wearing Burkas."
See also "Lincoln: Racists blocked by police", Hope Not Hate, 8 June 2013
And "Ric Metcalfe opens counter protest: unity against racism", Lincolnshire Echo, 8 June 2013
Update:  The English Volunteer Force blog reports that one of the speakers at the rally was Paul Pitt, formerly a leading figure in the EDL and currently head of the far-right South East Alliance.
Update 2:  See "'Burn the mosque' chant East Anglian fascists", East Midlands Anti-fascists, 11 June 2013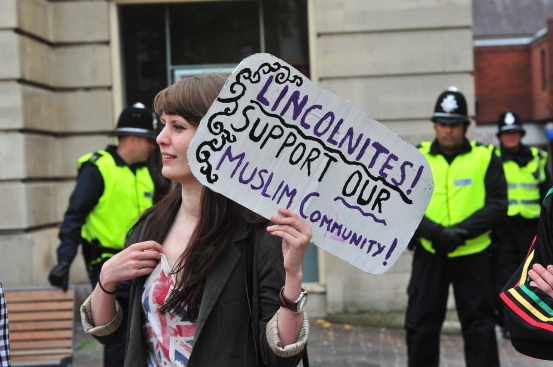 Photo: Lincolnshire Echo