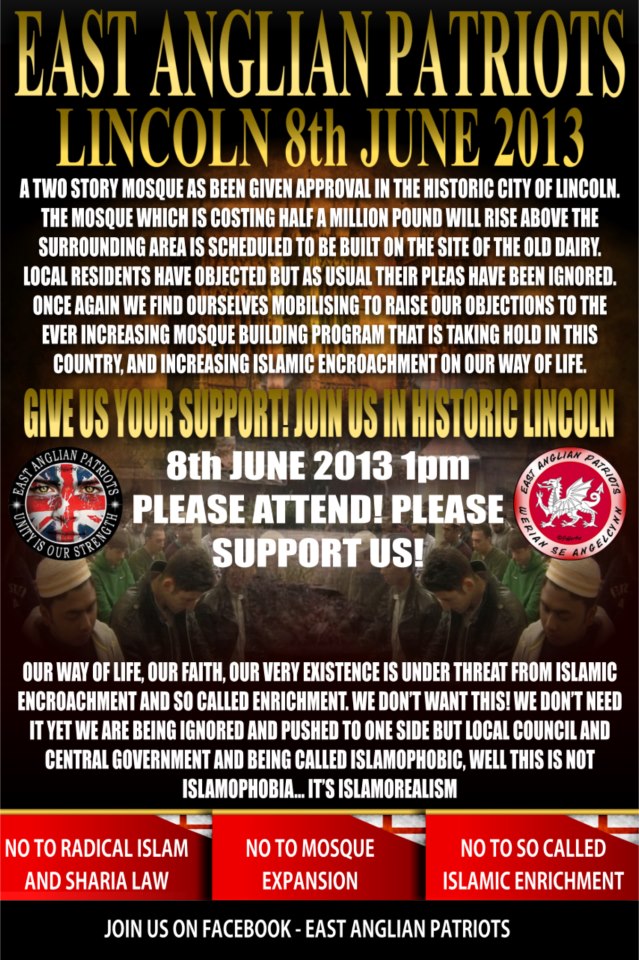 East Midlands Anti-fascists report that an English Defence League splinter group called the East Anglian Patriots have announced they will be holding a protest in Lincoln next month against a plan to build a new mosque.
Appealing to their supporters to help "stop this muzzie infested building getting built", the administrators of the "Stop the Lincoln Mosque" Facebook page state that although this will not be an official EDL demonstration they are "all edl on here pretty much".
As Emaf point out, the organisers' claim that "local residents have objected but as usual their pleas have been ignored" is a lie. The local residents' association did initially oppose the planned development on the former site of the Boultham Park Dairy, but subsequently withdrew their objections after their concerns about traffic had been addressed. The Boultham Residents' Association in fact issued a joint statement with the Islamic Association of Lincoln welcoming the plan.
This was despite attempts by the far right to whip up hatred over the issue and intimidate the local Muslim community.
When the Islamic Association of Lincoln held a meeting in July 2010 to discuss the mosque plan, the EDL's Casuals United section boasted that their members had tried to wreck the event. The EDL's intervention, during which the Islamic Association's supporters were abused and a Muslim policemen was assaulted, resulted in two of these thugs being convicted of religiously aggravated threatening behaviour (see here, here and here).