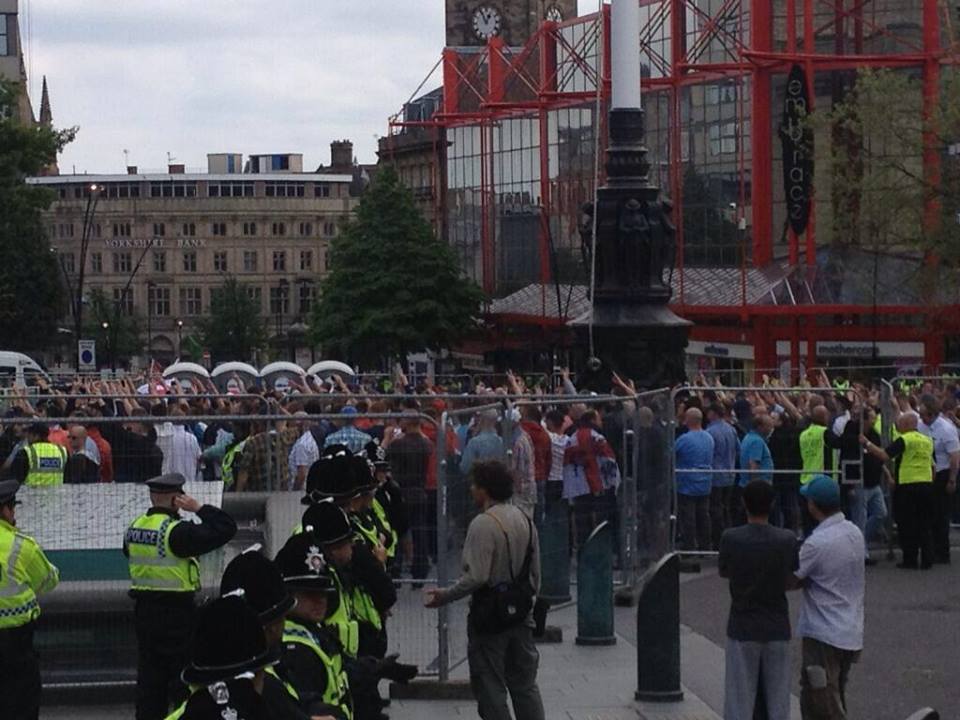 Hundreds of English Defence League supporters who protested in Sheffield city centre were able to lay their wreath – but have been accused of inciting counter demonstrators.
Sheffield Central MP Paul Blomfield claimed EDL supporters made Nazi salutes as well as Churchill-style "V" signs when they entered Barker's Pool and approached the war memorial to lay the wreath.
Shouts of "there's only one Lee Rigby" were chanted by the EDL as they entered, after leader Tommy Robinson had grabbed a megaphone and urged them to hold a "peaceful protest". The Star filmed EDL supporters, who initially shouted "Yorkshire" changing their chants to "Allah is a paedophile" and "if you wear a yellow jacket, you're a ****" at police.
Labour MP Mr Blomfield said: "I congratulate The Star for exposing the EDL for what they are. They claimed to be coming here peacefully but I am disgusted that they stood in front of the war memorial and gave a Nazi salute, then chanted obscenities at the police and towards Sheffield's Muslim citizens."
EDL leader Tommy Robinson, who was with a 500-strong group of supporters, had appealed for calm before setting out from Carver Street car park and again in Barker's Pool. There was applause from EDL supporters before they fell silent – while the anti fascist supporters chanted "Nazi scum off our streets".
EDL supporters were then escorted from Barker's Pool, onto Carver Street and up West Street by police then who formed lines to prevent them escaping down side roads. A minor scuffle broke out when a small number of EDL members managed to break off onto a back street and were met by counter-demonstrators. Police broke up the fight.
But a larger confrontation happened at the end of West Street when EDL members who were kettled by police were met by hundreds of anti-fascist and Muslim demonstrators who had followed them from Barker's Pool. Lines of police, some wearing riot gear, were sent in to keep the sides apart, as cars, buses and trams were stopped around the Glossop Road junction with the inner ring road for around half an hour. The EDL was then moved down West Street to outside the Swim Inn, surrounded by police.
EDL members said they were motivated to come along because anti-fascist demonstrators had prevented them laying a wreath in Sheffield last week.
After the demonstrators had left Barker's Pool, the EDL wreath remained. But the war memorial was also decked in a green Campaign for Nuclear Disarmament flag, and a note had been left next to the EDL wreath paying tribute to Muslim soldiers who fought for the British in World Wars one and two.
Update:  There is further coverage of the day's events by the University of Sheffield's independent newspaper Forge Press. They report that the EDL paid tribute to the memory of Lee Rigby by chanting "Burn a poppy and we'll burn your mosques" and subjecting a Muslim woman to racist and sexist abuse, including telling her to "get back in the kitchen".