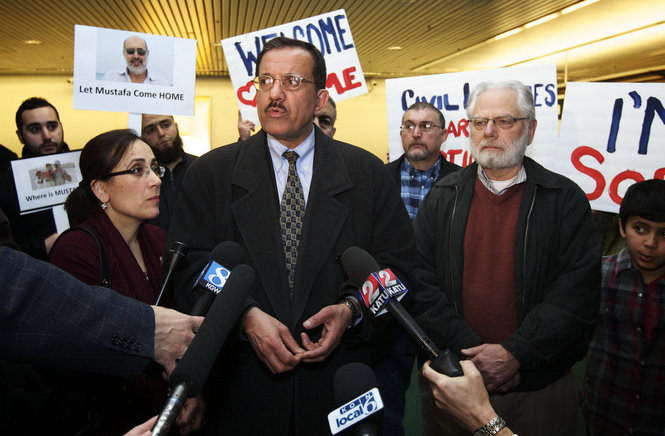 Jamal Tarhuni arrives at Oregon International Airport
A Libyan-American who says he was forbidden from returning to the United States and questioned by FBI agents in Tunisia after visiting neighboring Libya insists he has done nothing wrong.
"I do intend to protect my rights. I do intend to clear my name," 55-year-old Jamal Tarhuni said after arriving at Portland International Airport Tuesday morning from Amsterdam.
He traveled to Libya last fall to help deliver humanitarian supplies. Tarhuni said he was barred without explanation from flying home on a flight from Tunis, Tunisia, on Jan. 17 and that he was told he should report to the U.S. Consulate.
Tarhuni said when he went to the consulate he was told he was on a no-fly list and was questioned by two FBI agents about his religious beliefs, whether he believes in Sharia law and about his mosque.
He said when the agents asked him to waive his Miranda rights he called his attorney, Thomas Nelson of Portland. Nelson advised Tarhuni to stop the interview with the agents, which Tarhuni did, and then he left the consulate.
Nelson flew to Tunisia and returned with Tarhuni on Tuesday. Asked why Tarhuni was allowed to leave, Nelson said the pair "raised hell" with the help of U.S. Sen. Ron Wyden, D-Ore. "They didn't have a case," Nelson said. "I said this is not an investigation, this is coercion."
Most recently, three Muslim men from Portland traveling abroad have discovered they are facing travel restrictions. They include Tarhuni as well as another Libyan-American, 60-year-old Mustafa Elogbi. Like Tarhuni, Elogbi traveled to Libya after the overthrow of Moammar Gadhafi. Elogbi went to visit family.
He planned to return last month. Elogbi got as far as a connecting flight in London before he was sent back to Tunisia, he said earlier this month. He said he was held in a British jail for two days and told by British authorities that the U.S. government was preventing him from flying home.
Last year, Portland resident Michael Migliore, a Muslim convert, traveled to England by boat because of his apparent placement on the U.S. no-fly list. He was detained upon arrival and later released by British authorities.
Associated Press, 15 February 2012
See also Oregon Live, 14 February 2012