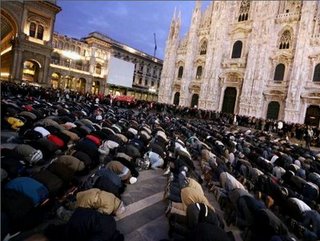 A member of Italy's anti-immigration opposition party condemned yesterday the weekend prayer by thousands of Muslims outside Milan's Cathedral in protest against Israel's military offensive in Gaza.
"The fact that Muslim extremists transformed the Cathedral square into an outdoor Mosque (constitutes) an incredible provocation," ANSA news agency quoted Mario Borghezio, European deputy with the Northern League, as saying.
"The prayer to Allah recited by thousands of fanatical Muslims is an act of intimidation, a slap in the face for the city of Milan which must remain Christian," he added.
But Father Tonio dell'Olio, former Secretary General of Pax Christi Italy, told Corriere della Sera newspaper it was "legitimate that Muslim solidarity is conveyed through prayer."