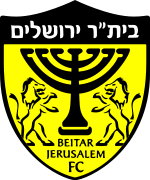 Knesset Speaker Reuven Rivlin (Likud) castigated fans of the soccer club he supports, Beitar Jerusalem, after three were arrested at the capital's Teddy Stadium Saturday night for calling out racist chants during a match against Bnei Yehuda.
The chants were aimed at two Chechen players who are slated to become the first Muslim players to join the team: Dzhabrail Kadiyev and Zaur Sadaev.
"Today is International Holocaust Remembrance Day. Imagine the outcry if groups in England or Germany said that Jews could not play for them," said Rivlin. He said he would work to put an end to the club's anti-Muslim discrimination.
Club coach Eli Cohen, also condemning the fans' behavior, initially said Saturday night that these were friendly European Muslims not Arab Muslims; he later clarified that he opposed all racist sentiments.
The club's owner Arkady Gaydamak said the two players would indeed be signed. A very small group of "so-called supporters" — no more than a few hundred — were not representative of the greater Israeli public, he said, interviewed by Army Radio from Moscow, and would not be allowed to influence what happens at the club.
The deal to bring the two aboard has not yet been signed, according to team officials.
The team, which boasts a nationalist fan base, has famously and staunchly opposed bringing aboard Arab or Muslim players, bowing to pressure from fans.
Last season, several dozen fans rampaged through the neighboring Malcha Mall after a match, chanting anti-Arab slogans and reportedly beating up Arab workers.
"We are against racism and against violence and we pay a price for our fans," Assaf Shaked, a team spokesman, told the Associated Press last year. "But we aren't going to bring an Arab player just to annoy the fans."
The two Chechen players are expected to arrive in the country this week, according to Israel Radio.
Times of Israel, 27 January 2013
See also Ali Abunimah, "Israel's ultra-racist Beitar Jerusalem football team in uproar over hiring of Muslim players from Chechyna", Electonic Intifada, 26 January 2013