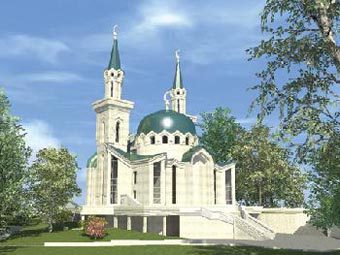 A 21-year-old resident of the Russian exclave of Kaliningrad has been sentenced to three years in prison for an attempt to blow up a mosque under construction, a local court said on Thursday.
Investigators revealed that in November 2011 Anatoly Nasonov plotted to destroy the site to protest the construction of a Muslim house of worship in his neighborhood.
"During his military service, Nasonov was trained as a demolition expert," the court said. "He knew that there were canisters filled with liquefied gas at the construction site and planned to blow them up with flammable reagents."
The convict failed to carry out his would-be terrorist mission as he was arrested by federal security officers while trying to climb over the fence surrounding the construction site.
Nasonov has been convicted on charges of attempted terrorism and pleaded partially guilty. He has been sentenced to three years at a general population correctional facility despite the prosecutors' asking for a four-year-long high-security prison term.