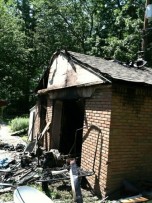 The Council for American-Islamic Relations is calling on the FBI to investigate a fire that destroyed a mosque-owned structure Tuesday in Dearborn as a bias-motivated crime.
The storage space, about the size of a garage, is located off of Pelham Street next to Edsel Ford High School. It sits next to what used to be the Dearborn Woods Presbyterian Church, but is now known as the Dearborn Woods Community Center.
According to CAIR-MI Director Dawud Walid, the American Muslim Center on Outer Drive purchased the church and storage structure several years ago, and has since used the main building for funerals, weddings and other events.
On Tuesday just after 11 a.m., a fire broke out at the storage area. It was extinguished by the Dearborn Fire Department and did not spread to the main building.
However, CAIR-MI believes the fire was set intentionally, and that the arson was based on anti-Muslim bias. According to the statewide Muslim advocacy nonprofit, obscene graffiti and the word "Arabs" was discovered on the structure. Walid called on the FBI to investigate.
"If a bias motive is revealed in this case, the FBI should add its resources to those of local law enforcement authorities to help bring the perpetrators to justice," said Walid, who informed local FBI officials of the incident.
See also "CAIR asks FBI to probe fire at building associated with Mich. mosque", CAIR press release, 12 June 2012