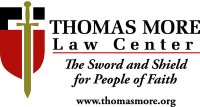 ALLEGAN, Mich. — A federal judge has dismissed a conservative Christian advocacy group's lawsuit against a Muslim rights organization over the cancellation of a speech by an anti-Muslim speaker at a southwestern Michigan school.
The Thomas More Law Center sued the Council on American-Islamic Relations in 2012, saying its Michigan director violated the free speech rights of then-state Rep. Dave Agema and others involved in the event at Allegan High School.
Allegan police interrupted Kamal Saleem's Jan. 28, 2012, speech, saying there were threats of violence against him. Dawud Walid of the Muslim group's Michigan office had written the school district earlier objecting to Saleem's appearance.
U.S. District Judge Janet Neff on Wednesday dismissed Walid and his group as defendants. Neff also dismissed claims against People for the American Way and Allegan police.
Associated Press, 22 January 2014
See also "Federal judge dismisses Thomas More Law Center's 'frivolous' lawsuit Against CAIR-MI, Executive Director", CAIR press release, 22 January 2014