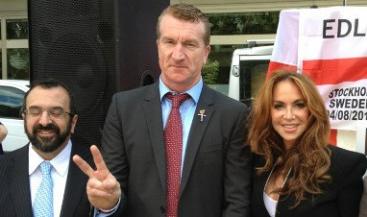 The joint leader of the far-right English Defence League has been arrested on suspicion of a race hate crime.
Kevin Carroll, cousin of the anti-Islam group's founder Stephen Lennon, was arrested on Saturday morning by officers investigating allegations he posted a message inciting racial hatred on Facebook.
Mr Carroll, who recently stood unsuccessfully for election as the Police and Crime Commissioner for Bedfordshire, is also the joint leader of the nationalist British Freedom Party.
A message posted on Facebook by a group which supports the EDL read: "Kev was arrested in Luton Town Centre for Religious & Racial Hatred, following on from screenshots being provided to the OB of FB comments 'allegedly' made.
"He has now been bailed with conditions and has to sign in at the Police Station twice a week. He was on his way to a meeting in Luton when he noticed he was being followed, Kev says it was something out of the sweeney as they all pulled up around him, pepper spray, flashing lights, well over the top."
The EDL was dealt a blow last week when its founder and leader Stephen Lennon – who also uses the alias Tommy Robinson – was jailed for 10 months for entering the USA illegally.
A spokesman for Bedfordshire Police said: "a 43 year old was arrested on Saturday morning on suspicion of 'Display threatening abusive/insulting written material with intent/likely to stir up racial hatred'."
According to the British Freedom party, of which Carroll is now chairman, he was arrested in connection with a Facebook post from October in which he described Muslims as "all fukin backward savages, a devil spawned death cult worshiping all that is unholy and barbaric, pure evil".
It is of course welcome news that Carroll has been arrested in connection with this blatant incitement of hatred. However, it is difficult to see how a prosecution under the racial hatred law (Part 3 of the Public Order Act) could succeed, as Muslims (unlike Jews and Sikhs) are defined as a multi-ethnic faith community and except under exceptional circumstances are not protected by that legislation.
A charge under the religious hatred law (Part 3A of the Public Order Act) would also fail, as that legislation is completely useless, requiring both proof of intention and that the words should be threatening (which in this case they are not).
What this underlines is the need to amend the religious hatred law so that Muslims have the same protection against incitement to hatred that mono-ethnic faith communities do.
As things stand, the Crown Prosecution Service might be better advised to charge Carroll under Section 127(1) of the Communications Act 2003, which makes it an offence to send over a public electronic communications network a message that is "grossly offensive or of an indecent, obscene or menacing character". The offence carries a possible 6-month prison sentence.