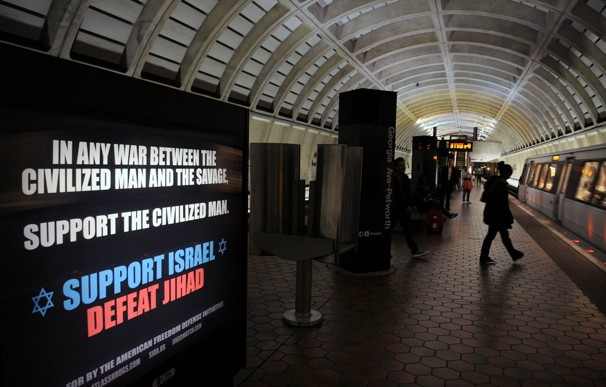 Some national Jewish organizations joined a coalition of religious groups calling on the Washington Metro system to donate profits from an anti-Islam ad to charity.
"The placing of offensive, anti-Muslim ads in the D.C. Metro system is an important opportunity to affirm our commitment both to free speech and to a society that deplores hate and hate speech," said Rabbi Batya Steinlauf, the Jewish Community Relations Council of Greater Washington's director of social justice and interfaith initiatives, and president of the Interfaith Conference of Metropolitan Washington. "We are all part of one community," she said.
The ad, currently running in four train stations throughout the Washington area, reads, "In any war between the civilized man and the savage, support the civilized man. Support Israel. Defeat Jihad." It was sponsored by the American Freedom Defense Initiative.
Monday's news conference was organized by the 28-member Shoulder-to-Shoulder: Standing with American Muslims, Upholding American Values and United Methodist Women. The coalition of Christian, Jewish and Muslim groups released a letter signed by 168 religious clergy members.
The letter states that the "ads espouse inaccurate and inflammatory stereotypes about American Muslims. These ads equate generalized 'savages' with 'jihad,' dangerously painting all Muslims as savages and suggesting that these generalized 'savages' must be defeated."
Major Jewish organizations participating include Rabbis for Human Rights-North America, the Reconstructionist Rabbinical College and the Union for Reform Judaism.
See also Jack Moline and Clark Lobenstine, "Anti-Jihad Metro ads: An interfaith response to hatred", Washington Post, 15 October 2012