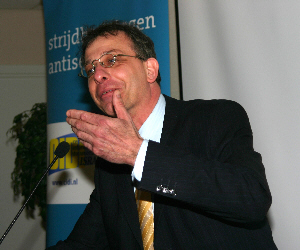 The Jerusalem Post has a report applauding the role of Geert Wilders' party, the PVV, in encouraging the Dutch government to adopt an aggressive policy towards Iran.
The paper hails Wim Kortenoeven [pictured], the PVV MP who apparently played a leading role in drawing up a resolution calling for tougher sanctions against Iran, as "one of Europe's most prominent advocates for Israel's security", and portrays Wilders' party as an important ally of Israel:
Kortenoeven is a leading expert on the Middle East and has garnered an international reputation for his analysis on the region.

His party's leader, Geert Wilders, advocates a tough approach to radical Islam in the Netherlands, including restrictions on immigration.

The Party for Freedom has prioritized Israel's security interests and sees combating extremist Islam as integral to defending Israel and Western liberal values.

Kortenoeven told the Post, "My party, the Party for Freedom, will never let Israel down. We will never let down the Jewish State of Israel. We will also support Israel when they exercise their legitimate right to self-defense.

In the debate I repeated it three times: My party will never abandon Israel. We support it unconditionally and with whatever it takes. The Iranian threat to annihilate six million Jews is a moral call to us. It is an Auschwitz in the making. We take this threat seriously. History forces us to do that. It happened before and the West did nothing to stop it." …

Kortenoeven twice worked in a kibbutz: in 1976 in Nahshon and in 1981 in Matzuva.

In an e-mail to the Post on Friday, Yochanan Visser, an expert on Dutch-Israeli relations – who made aliya from the Netherlands in 2000 – wrote, "Now, it is good that Dutch FM Rosenthal said that the military option is still on the table, during the EU meeting last Monday."
You'll note that the report doesn't contain the slightest acknowledgement that the PVV is a far-right racist party, headed by a man who was prosecuted for inciting hatred against Muslims and migrants. The Jerusalem Post is quite happy to overlook such matters because of the PVV's support for Israel.