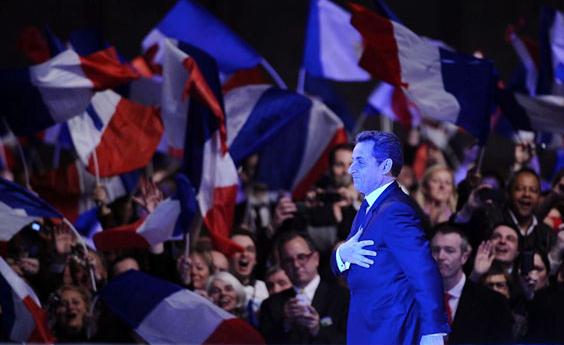 French President Nicolas Sarkozy edged ahead in polls on Tuesday, capturing votes from the far-right after a crackdown on Islamists boosted his security credentials just ahead of the presidential election.
But Socialist Francois Hollande, his main rival, while losing ground in voting intentions in the first round of voting on April 22, is still set to win the second round of voting in May, according to opinion polls.
Sarkozy, who was at one point France's least popular president, has come from behind to increasingly control the campaign's themes, from security in the wake of last month's al-Qaeda-inspired killings to the economy.
Mohamed Merah's shooting spree in and around the southern city Toulouse, in which he murdered seven people, including three Jewish children, allowed Sarkozy to assume his security mantle to guide a shocked nation through a time of crisis.
Since then, Sarkozy's ministers have taken a series of measures billed as anti-extremist, refusing entry last week to Islamic preachers wanting to attend a conference and, on Monday, announcing the expulsion of five "radicals".
A series of swoops by anti-terror police on Friday netted 19 alleged Islamists, some of whom planned were planning to carry out kidnappings, including that of a Jewish magistrate in the central city of Lyon, sources told AFP.
The spokesperson for Left Front presidential candidate Jean-Luc Melenchon, who has surged into third place in the polls, said she was "surprised" at the timing of Friday's arrests, and warned against "rightwing manipulation".
"I must say I'm surprised at the context," Clementine Autain told i-TELE. "If there were dangerous Islamists before, then obviously they should have been arrested."
While Friday's arrests were ordered by magistrates who are independent of the executive, the opposition has criticised the presence of television news cameras during the arrests three weeks ahead of the vote.
The lawyer of alleged Islamist ringleader Mohamed Achamlane said his client strongly denied planning any kidnap and slammed what he said was a political manoeuvre to satisfy "electoral interests".
Benoit Poquet said it would be proven "that the repeated political incursions into this case and the opportunely orchestrated media treatment… had no other ambition than to satisfy electoral interests."
See also Elena Casas, "Is Sarkozy milking the fear of radical Islam for political gain?", France 24, 4 April 2012