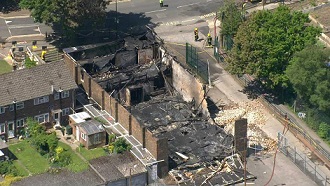 The fire that destroyed an Islamic community centre in Muswell Hill last week was the result of arson, police have confirmed.
Fire crews were called to the blaze at the the Bravanese Centre in Coppetts Road – which houses the Somali Bravanese Welfare Association – in the early hours of Wednesday morning.
Officers investigating the scene discovered the letters "EDL" (the initials of the far-right anti-Islam group, the English Defence League) had been sprayed on the side of the centre. It is feared the fire was in retaliation for murder of Drummer Lee Rigby in Woolwich last month.
Counter-terrorism police investigating the fire have been treating it "suspicious" but today Borough Commander Adrian Usher confirmed that the inferno was the result of an arson attack.
"That fact alone, whilst it may be what we always suspected, is still shocking," he said. "The very nature of fire is that if left unchallenged it will spread. Whoever set this fire gave no thought for the lives of anyone who may have unexpectedly been in the building or the lives of those residents who lived nearby. If not for the courage and professionalism of the London Fire Brigade we could have been facing a far more tragic situation."
He added that the investigation had been hampered by the presence of asbestos on the community centre site. He said: "I should emphasise that there is no danger to the public whatsoever from this, but it has slowed things down a little."
No arrests have been made.