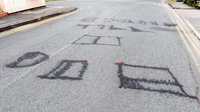 A slice of bacon was posted through the letterbox of Maidenhead mosque in an attack believed to be part of an anti-Muslim backlash following horrific events in Woolwich.
Staff discovered the rasher, placed in an envelope, when they unlocked the mosque yesterday morning and believe it is the latest anti-Muslim protest sparked by the killing of Drummer Lee Rigby in a suspected Islamist attack in South London last month.
Graffiti, stating "England till I die", was also found spray-painted on tarmac near the mosque on Sunday and is believed to be aimed at Muslims.
It comes just over two weeks after stones were thrown through the window of the mosque's fire exit – the day after incidents in Woolwich.
Fazal Awan, chairman of Maidenhead's Islamic Trust, again called for calm and added: "We are peaceful people. We get on very well with everybody, every community and every faith. We are loyal to the country, loyal to the Government and loyal to the law."
Maidenhead Advertiser, 11 June 2013
See also The Voice, 13 June 2013