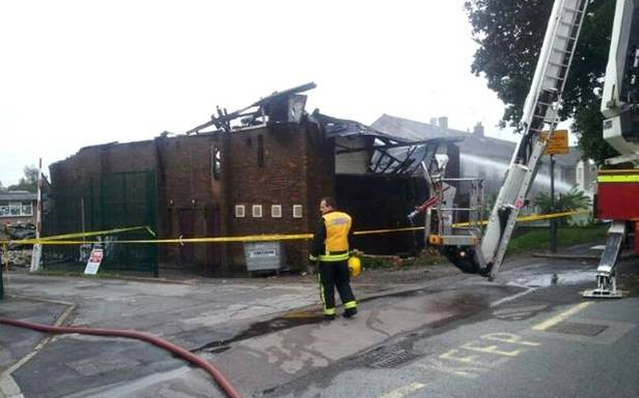 Counter-terrorism police are investigating a blaze that destroyed a mosque today amid fears that it was firebombed in revenge for the Woolwich murder of Drummer Lee Rigby. Fire crews reported seeing the letters EDL scrawled on the building's side as they battled the blaze in Muswell Hill.
Scotland Yard said it was treating the fire at the Somali community centre as suspicious and the Counter Terrorism Command was leading the inquiry. Fire crews were called to the Somali Bravanese Welfare Association in Coppetts Road at 3.15am and took nearly an hour and a half to get the blaze under control. The two-storey building, housing the Al-Rahma Islamic Centre and listed as a mosque, was completely destroyed.
A prominent member of the far-Right protest group English Defence League said: "Just because EDL is written on the wall, you can't point the finger at us. It could have been anyone. The Government is not doing anything so people are taking things into their own hands. I don't condemn this."
Barnet borough police commander Adrian Usher said: "I have assured community leaders that a thorough investigation is being conducted. The safety of our communities is always our priority and we are consulting widely, offering our support and reassurance. All communities can be confident that they have our support and I can be contacted personally to answer their concerns."
London Fire Brigade said six engines and about 35 firefighters fought the blaze but the building was severely  damaged and part of it collapsed. One woman from a nearby property suffered shock and was treated at the scene, said London Ambulance Service.
If confirmed as arson, the blaze would be the most serious so far in a series of attacks on UK mosques since the murder of Drummer Rigby in Woolwich two weeks ago.
The last person left the centre at 8pm last night, a youth worker said today. Ahmed Ali said that when he arrived at 4.15am today the building was virtually destroyed and the letters EDL were daubed in dark spray paint on a wall.
Mr Ali said: "We're gutted and shattered, it's heartbreaking. We are in total shock that this has happened in our community but it will not stop us. All our neighbours have shown solidarity today and have been inviting us in for coffee and asking how they can help us rebuild."
He added: "We were horrified at the death of Drummer Lee Rigby. We're a peaceful community, but the people who did this just have hatred inside."
See also "Al-Rahma Islamic Centre destroyed in 'racist attack'", BBC News, 5 June 2013