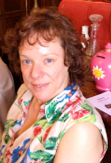 "The streets around Acton, which has been my home since 1996, have taken on a new identity. Most of the shops are now owned by Muslims and even the fish and chip shop and Indian takeaway are Halal. It seems that almost overnight it's changed from Acton Vale into Acton Veil."
Over at the Telegraph, Jane Kelly protests against the Islamification of west London. At least she doesn't bother trotting out the usual excuse that her dislike of Muslims is based solely on cultural differences and has nothing to do with race. She writes that "many white people in London and the Home Counties now move house on the basis of ethnicity" and justifies this on the grounds that "mass immigration is making reluctant racists of us all".
Kelly is consulting editor at the Salisbury Review, a publication that achieved notoriety back in 1984 when it published an article by Bradford headteacher Ray Honeyford entitled "Education and Race – an Alternative View" which featured a range of offensive racist stereotypes.
Describing a meeting with Bradford Asian parents to discuss education policy, Honeyford wrote: "The hysterical political temperament of the Indian sub-continent became evident – an extraordinary sight in an English School Hall…. A half-educated and volatile Sikh usurped the privileges of the chair by deciding who was to speak."
Which only goes to show how little things have changed on the Conservative right over the past three decades.
The Telegraph presents Kelly's op ed as "a provocative personal piece". I suppose that's one way of describing an article expressing bigotry towards an entire ethno-religious community. Perhaps the Telegraph might consider following it up with another "provocative personal piece" complaining that Golders Green or Stoke Newington have been taken over by Jews, and see how that goes down.
Update:  See also "Acton's not white anymore, moans Salisbury Reviewer", Indigo Jo Blogs, 29 January 2013