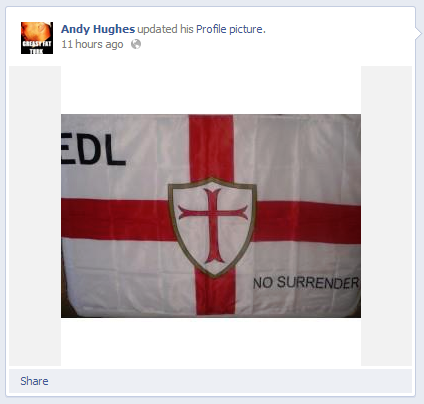 Last year we ran a piece on former English Defence League activist Andy Hughes, proprietor of the Islamic Far-Right in Britain blog, whose articles denouncing the Islamist threat to western civilisation are regularly crossposted at the notorious Islamophobic blog Harry's Place.
We pointed out that, in addition to declaring his admiration for convicted thug Joel Titus, the ex-leader of the EDL's youth section, Hughes had made antisemitic comments on the Expose Facebook page under the pseudonym of Arry Bo. Expressing his dislike of "Yids" who "think they are superior beings and the rest of us are scum", Hughes wrote that this explained "why Jews have been kicked out of so many countries" .
Given HP's readiness to denounce opponents of the state of Israel as antisemites, you might have thought they would be quick to dissociate themselves from Hughes and his vile remarks. But no. Sarah Annes Brown, who presents herself as the voice of reason at Harry's Place (competition isn't exactly fierce), happily accepted Hughes' laughable explanation that in posting these antisemitic comments he was simply trying to wind people up. She attributed this to the fact that Hughes is "a bit – skittish"!
Earlier today Hughes joined a discussion at Expose, posting comments under one of his other aliases, Arry Ajalami. Although he has in the past insisted that he has broken with the EDL and rejects its current methods and ideology (which is why HP say they have no problem with publishing his articles), this didn't prevent Hughes from posting a number of comments that show he still identifies closely with this gang of racists and fascists.
Even more disgusting, however, was Hughes' reaction to the posting of a screenshot from the EDL LGBT Division's Facebook page, in which one EDL supporter advocated a sexual assault on Expose admin Darcy Jones. A denunciation of "these muslim dogs and the liberal garbage who protect them", was followed by: "Let them rape Darcy. She likes these dogs so much."
Hughes' response was: "Well my cousin's mate was raped and she said it wasn't THAT bad. She didn't like it but said it wasn't as bad as when she got beaten up by a gang of Muslims." Quite rightly, the comment was almost immediately removed, but not before Expose had taken a screenshot which can be viewed here. You'll notice, by the way, that Hughes had adopted the National Front logo as his profile picture.
During the past week Harry's Place has been making hay over the Socialist Workers Party's failure to deal properly with an accusation of rape against one of its leading figures. Before that, HP attacked George Galloway over his remarks trivialising the rape charges against Julian Assange. So you might think that, in all consistency, they would have to sever links with Hughes over his own reprehensible views on sexual violence and cease crossposting articles from his Islamic Far-Right in Britain blog.
But, again, this would almost certainly be a mistaken assumption. If you're prepared to assist in the witch-hunting of Muslim organisations, then you can announce your admiration for a violent hooligan, express atrocious antisemitic views, declare your support for a street movement of anti-Muslim thugs, claim that being raped isn't such a bad experience after all, and you'll probably get a free pass from Harry's Place. They'll put it all down to your skittish personality.