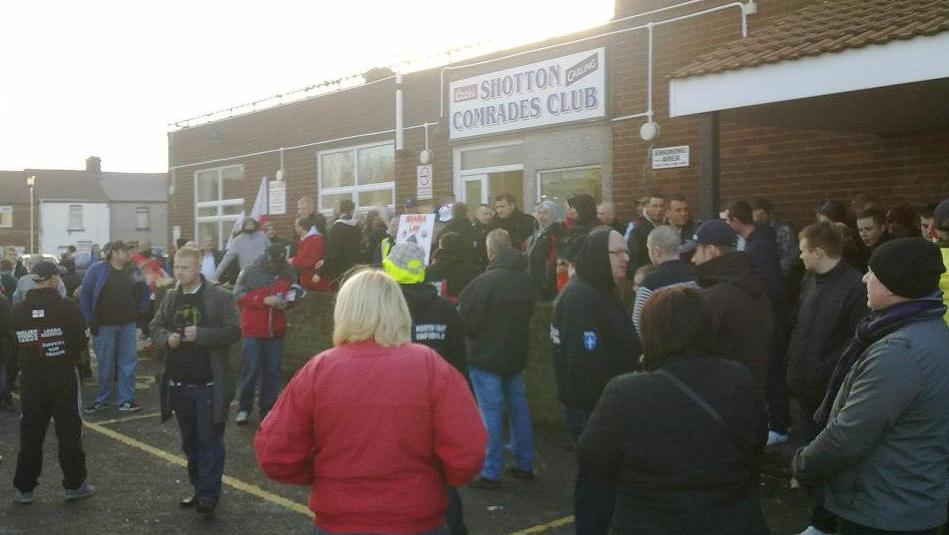 English Defence League protestors in Shotton Colliery last month
Police last night sought to reassure residents of a village where a far-right group protested against a planned Islamic education centre.
Around 200 members of the English Defence League gathered in the former pit village of Shotton Colliery, County Durham, on Saturday, December 1. Two people were arrested on suspicion of breach of bail and a woman was given a police warning.
It came after Durham County Council passed plans by businessman Kaiser Choudry to transform the Melrose Arms, a disused pub on Front Street, into an education centre.
Shotton Comrades Social Club was almost full for the special meeting last night attended by police, Stuart Timmiss, the council's head of planning and assets and councillor Eunice Huntingdon, who represents the area, to discuss the plans. Several residents voiced fears about extremism at the meeting.
Mr Choudry has said the centre is for the use of the whole community though it is intended to primarily serve the local Muslim community, which comprises around 10 to 12 families.
A 102-signature petition and 12 letters of objection were lodged with the authority, mostly raising concerns about parking. But the meeting also heard of concerns about how Muslims would integrate into the village community.
Coun Ted Hall, who sits on the Shotton and Peterlee parish councils, summed up the mood. He said: "The feeling in the village is totally hostile. People in this village see no need for it [the centre]."
Mr Timmiss said the community needed to pull together. "I have seen some opposition to the plan tonight again and we're here to ensure that we have all agencies working together to resolve some of the integration issues that exist here in the village," he said.
"I think that is the message that Durham County and the police are trying to get across. Shotton is a great community and it has got some great people. It is going through change and we have got to support it through that change. We need to get the community working together and to dispel some of the fears that we have heard about tonight."
Chief Superintendent Ivan Wood said the force would ensure relations between factions of the community remained calm. He said: "Shotton is a peaceful, quiet village and there is no reason moving forward why it can't still be that way."