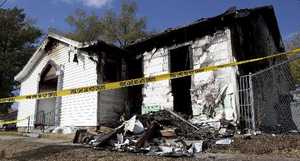 The fire that heavily damaged a west Wichita mosque early on Halloween morning was an arson, a fire department official said today.
The fire at 3406 W. Taft, southeast of Maple and West streets, was reported at 12:45 a.m. on Oct. 31 and caused an estimated $120,000 in damage. The damage was so extensive the congregation only returned to the mosque last Friday, Capt. Stuart Bevis said.
Test results received from the Bureau of Alcohol, Tobacco, Firearms and Explosives lab in Maryland ruled out the last possible accidental source of the fire, Bevis said. That only leaves a fire set "by human hand" as the source of the fire, he said.
Someone knows how the fire was set and who did it, Bevis said, but they haven't shared that with anyone yet. Wichita police, the ATF and the FBI joined the fire department in the investigation, questioning residents in the surrounding neighborhood.
If anyone had been bragging about setting the fire to friends or neighbors, he said, authorities would have heard about it by now. "To this point, all leads have been exhausted," Bevis said.
Investigators are seeking the public's help in solving the arson. Anyone with information should call the fire investigation unit at 316-337-9146 or Crime Stoppers at 316-267-2111.
The mosque, which was the first formal mosque in Kansas when it opened in 1978, had received anti-Islam letters before the fire. But investigators have been unable to prove a connection, Bevis said today.