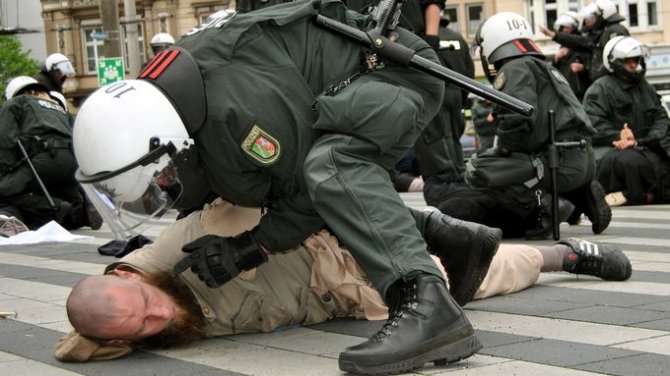 Germany is considering a legal ban on ultra-conservative Salafist Muslim groups, its interior minister said on Wednesday after violent clashes with the police.
Last weekend, Salafists turned on police protecting far-right anti-Islam protesters during a regional election rally in the western German city of Bonn, injuring 29 officers, two of them seriously. Police arrested 109 people. The far-right protesters had infuriated the Salafists by waving banners showing cartoons of the Prophet Mohammad.
There have been similar clashes in other German towns in the past week, including in Cologne, where around 1,000 police were mobilized on Tuesday to keep Salafists and far-right activists far apart.
"We will use all the possibilities at the disposal of a constitutional state to oppose them (violent Salafists) wherever they fight against… our constitutional order," Interior Minister Hans-Peter Friedrich told n-tv television.
"Germany will not allow anybody to impose religious wars on us, neither radical Salafists nor far-right parties such as the Pro NRW," he said, referring to the ultra-nationalists that clashed with the Salafists in Bonn.
An interior ministry spokesman confirmed to Reuters that the government was examining the possibility of a ban on Salafist groups. "However, there is nothing official yet," he added.
Friedrich said Germany was home to some 4,000 Salafists, not all of whom were violent. "Without question the Salafists are ideologically close to al Qaeda," the minister told the Rheinische Post. "They have the clear political goal to destroy our liberal democracy. We will not allow them to do that."
In an interview with the Augsburger Allgemeine Green Party leader Claudia Roth accused the CDU/CSU of whipping up hostility towards Muslims in the run-up to the North Rhine-Westphalia elections and playing into the hands of the far right by failing to distinguish clearly between the Muslim community as a whole and a minority of extremists. She said that Pro NRW and their Salafist opponents are trying to stage a clash of civilisations and that the rule of law should be applied to both sides equally.