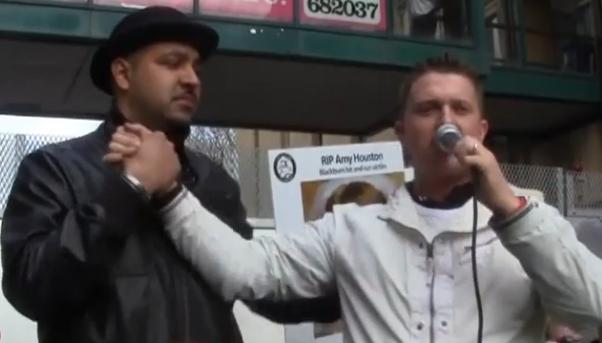 Happier days: Guramit Singh on an English Defence League platform alongside Stephen Lennon
A convicted offender who fled Nottingham before his trial is now back in custody. Guramit Singh Kalirai, 31, of Ullswater Crescent, Bramcote, was arrested by officers in Long Eaton yesterday (Sunday 6 October 2013).
Kalirai was found guilty of an attempted robbery at Simply Hydro, in Wigwam Lane, Hucknall, on Thursday 2 May 2013. He was sentenced in his absence to six and a half years in prison at Nottingham Crown Court on Tuesday 24 September 2013.
The court heard that Kalirai, along with two accomplices, entered the property at about 12.30pm and targeted a shop assistant demanding money. They pinned him to the ground and bound him while making threats to slash his throat.