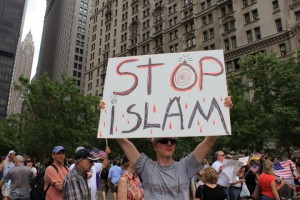 Some counterterrorism experts say the anti-Muslim sentiment that has saturated the airwaves and blogs in the debate over plans for an Islamic center near ground zero in Lower Manhattan is playing into the hands of extremists by bolstering their claims that the United States is hostile to Islam.
Opposition to the center by prominent politicians and other public figures in the United States has been covered extensively by the news media in Muslim countries. At a time of concern about radicalization of young Muslims in the West, it risks adding new fuel to Al Qaeda's claim that Islam is under attack by the West and must be defended with violence, some specialists on Islamic militancy say.
"I know people in this debate don't intend it, but there are consequences for these kinds of remarks," said Brian Fishman, who studies terrorism for the New America Foundation here. He said that Anwar al-Awlaki, an American-born cleric hiding in Yemen who has been linked to several terrorist plots, has been arguing for months in Web speeches and in a new Qaeda magazine that American Muslims face a dark future of ever-worsening discrimination and vilification.
Dalia Mogahed of the Gallup Center for Muslim Studies said the outcry over the proposed center "plays into Awlaki's arguments and Osama bin Laden's arguments" by suggesting that Islam has no place in the United States. She said that extreme anti-Muslim views in the United States ironically mirror a central tenet of extreme Islamists: "That the world is divided into two camps, and they're irreconcilable, and Muslims have to choose which side they're on."
New York Times, 20 August 2010
Update:  See also Nicholas D. Kristof, "Taking bin Laden's side,New York Times, 21 August 2010