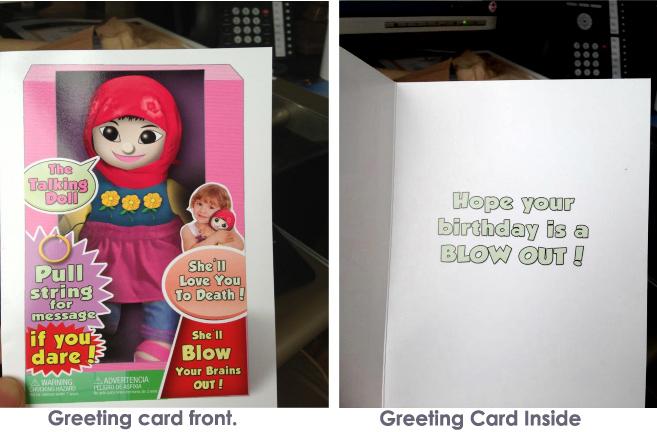 Writing in the Chicago Monitor, Ahmed Rehab of the Council on American-Islamic Relations draws attentions to this "joke" greeting card spotted by CAIR-Chicago in a local store.
The card, produced by a company called NobleWorks Cards, features a photo of a Muslim doll wearing a hijab accompanied by the words "The talking doll. Pull string for message, if you dare!" and "She'll love you to death! She'll blow your brains out!" The inside of the card features the message "Hope your birthday is a BLOW OUT!"
Ahmed Rehab writes:
Notice that nothing identifies this doll as a terrorist in the minds of the card designers other than that she wears a Hijab. Moreover, she – like many Muslim girl who choose to wear the Hijab – is a smiling, non-threatening normal-looking female wearing a pink Hijab and a flower-patterned dress. The unmistakable message behind the "humor" is that even the most peaceful looking Muslims are synonymous and exchangeable with terrorists…. Islamophobic generalizations and negative stereotypes often hit those who are most visibly perceived as Muslim, and women wearing the Hijab are often the group hit the hardest.
He points out that the doll on the card is based on an actual doll called "Aamina, the Muslim Doll" which teaches kids religious greetings and sayings in Arabic. It has previously been adapted for propaganda by anti-Muslim bigots but now a greetings card company has decided it can profit from selling such Islamophobic stereotyping as "humour".
CAIR-Chicago has written a letter of complaint to the company and urges its supporters: "Contact the makers of the greetings card and let them know that you do NOT think that stereotyping Muslim women and girls is OK. Ask them if they would get a chuckle out of their daughters growing up exposed to messaging that criminalizes their basic identity for profit."
NobleWorks Cards: 1-855-267-3163
He Who Eats Mud (local Chicago store that is selling the card): (773) 525-0616
You can contact CAIR-Chicago at 312-212-1520 or at info@cairchicago.org