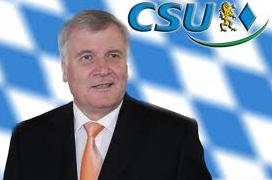 Outraged Turkish groups and German politicians on Monday demanded an apology from Horst Seehofer after the conservative Bavarian state premier suggested over the weekend Germany put a stop to immigration for Turks and Arabs.
Seehofer, who belongs to the CSU, the Bavarian sister party of Chancellor Angela Merkel's Christian Democrats, told news magazine Focus that "immigrants from other cultures, such as those from Turkey and Arab countries have more difficulties" integrating into German culture. Therefore he had drawn the "conclusion that we need no additional immigration from other cultural areas".
On Monday chairman of the Turkish Community in Germany (TGD), Kenan Kolat, demanded an apology. "The latest comments by Seehofer are defamatory and unacceptable", he told daily Berliner Zeitung, speaking of an attempt to stigmatise certain ethnic groups and trump former Bundesbank board member Thilo Sarrazin's inflammatory assertions about Muslim immigrants. Meanwhile politicians from across the spectrum expressed their dismay over Seehofer's suggestion.