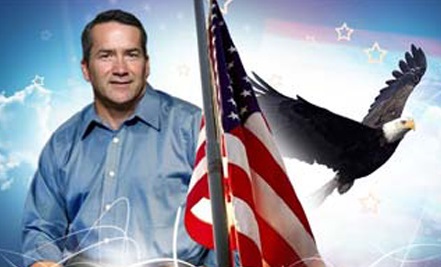 Jody Hice, a Baptist minister and talk-radio host, is running for Congress in Georgia's 10th Congressional District as a stern defender of the First Amendment and religious freedom. But that freedom does not apply to those of the Muslim faith.
"Although Islam has a religious component, it is much more than a simple religious ideology," Hice wrote in his 2012 book. "It is a complete geo-political structure and, as such, does not deserve First Amendment protection."
Hice believes that the Muslim Brotherhood is infiltrating the United States, with the intent to impose Sharia law on all of us.
He also believes that it's fine for women to seek political office, at least if certain conditions are met. "If the woman's within the authority of her husband, I don't see a problem," he told the Athens Banner-Herald in 2004.
Given all that, it will not surprise you to learn that Hice would eagerly vote to impeach President Barack Obama.
He also believes that gay people are engaged in a plot to convert our young people to homosexuality, and that "homosexuals have a right to be married; they just don't have the right to marry each other."
Last month, Hice finished a narrow first in a seven-candidate field for the GOP nomination in the 10th District. He faces a July 22 runoff against runner-up Mike Collins, a businessman and son of former U.S. Rep. Mac Collins. The winner is all but guaranteed to win in November and replace U.S. Rep. Paul Broun. (The district stretches from Covington east to the outskirts of Augusta, and from Athens south almost to I-16.)
Republican voters in the 11th Congressional District, which stretches from Buckhead up I-75 to Adairsville, also face a runoff. Not surprisingly, both Bob Barr and Barry Loudermilk have called for impeachment proceedings against Obama. Barr, who helped lead the disastrous impeachment of President Bill Clinton, is particularly intent on charging once more into the impeachment breach.
As a former congressman, Barr is somewhat of a known quantity, even if his core beliefs seem to shift as expediency demands. The same cannot be said of Loudermilk, a nine-year veteran of the Georgia Legislature and the likely front-runner in the race.
Loudermilk is an eager member of the Glenn Beck wing of the GOP. He is also an apostle of faux historian David Barton, who preaches that the U.S. Constitution is a document intended to create a conservative Christian government. Like Hice, they reject the notion of a separation between Christianity and state, and argue that the First Amendment was intended only to keep government from favoring one particular Christian denomination.
In their world view, Obama is anti-Christian and pro-Islamic, and they hint at darker motives.
"Eight days before the (2008) election, Barack Obama stated that 'we're eight days away from fundamentally altering government in America'," Loudermilk says. "The 22nd grievance in the Declaration of Independence says, 'The King has fundamentally altered our forms of government.' I mean, he (Obama) was basically saying, 'I'm going to take you back to the tyranny'" that the Founders rejected.
Coming soon, to a Congress near you.