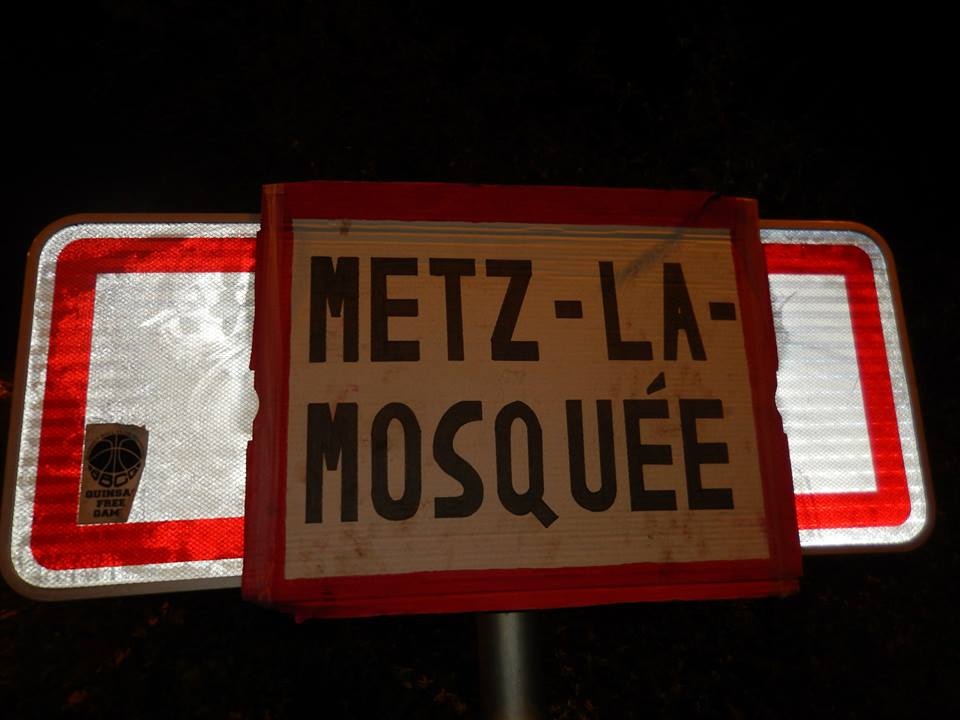 Des Dômes Et Des Minarets reports on the latest anti-Muslim initiative from the French far-right group Génération Identitaire, who were responsible for a widely publicised occupation of a mosque in Poitiers last year (and presumably also for the anti-Islam banner hung from the same building earlier this month).
Following the recent announcement that the mayor and municipal council have agreed to lease a plot of land to the city's Muslim association for the construction of a new mosque, Génération Identitaire activists in the Lorraine capital of Metz have been changing street signs, by giving them new names intended to suggest that the city is undergoing a process of Islamification.
The new names include "Place de la mosquée", "Rue de la lapidation", "Rue de la charia", "Rue du niqab" and "Place Allah Akbar". The signs also feature the additional note "With the collaboration of the mayor of Metz".
Génération Identitaire Lorraine has posted photos of the street signs on its Facebook page, along with a statement justifying the stunt as a "symbolic action", the aim of which was to denounce "the increasing Islamisation of our city and the entire region". By such actions the organisation hopes to "raise the awareness of the population about the growing expansion of the Muslim yoke over our daily lives". It calls on the people of Metz to resist the building of the new mosque.
In the current issue of Searchlight Paul Jackson has an article that examines the ideology of Génération Identitaire and reports on attempts to set up a branch of the organisation in the UK.