Dozens of far right extremists stormed atop an unfinished mosque in western France on Saturday to show their hostility toward it and denounce immigration that has brought millions of Muslims into the country, a regional official said.
About 70 protesters traveled from around France for Saturday morning's demonstration in the city of Poitiers, which has symbolic meaning as the place where a French medieval ruler once drove away Arab invaders, regional prefect Yves Dassonville said by phone. After police arrived, the protesters dispersed without resistance – and three were detained to face accusations of "incitement of racial hatred" and damage to property, he said.
French TV broadcast images of dozens of rowdy, waving and chanting protesters on the mosque roof next to its minaret. They unfurled a banner that read "Generation Identitaire" and demanded a referendum on immigration and mosques. The banner also bore the number 732, which Dassonville said was a reference to the year when the army of medieval French leader Charles Martel stopped an Arab invasion in Poitiers.
Muslim leaders said the protesters had disrupted a prayer inside, and expressed incomprehension over the stunt. "We are thunderstruck … these are people who are stuck in the year 732, and who don't see that the world has changed," Poitiers imam El Haj Boubaker told France's BFM-TV. "People can live differently than in a mindset of war and conflict."
Dassonville said the completion of the Poitiers mosque has lagged for years because of ongoing troubles the Muslim community has had in drumming up needed financing. He said he was assembling an interfaith meeting of Jewish, Catholic and Muslim leaders in the city Saturday to show unity in the face of the far right demonstration.
Interior Minister Manuel Valls denounced a "hateful and inadmissible provocation" by the extremists.
Associated Press, 20 October 2012
A statement by the far-right organisation who organised the occupation can be consulted here.
See also Le Nouvel Observateur, 20 October 2012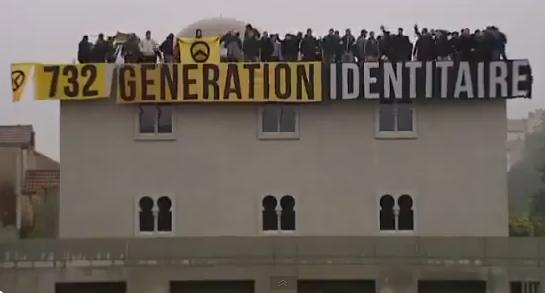 Update:  The attack on the mosque has been applauded by the English Defence League: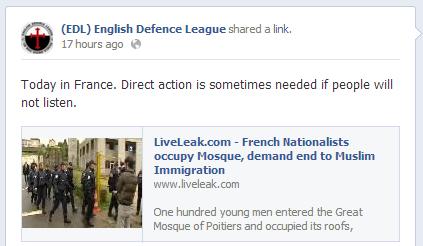 Here is a selection of the comments this prompted. There are repeated calls for the EDL to engage in similar direct action, although one supporter doesn't feel that this goes far enough and urges his fellow patriots to "meet violence with extreme violence..bombing mosques and car bombing there leaders etc ..plenty of targets".