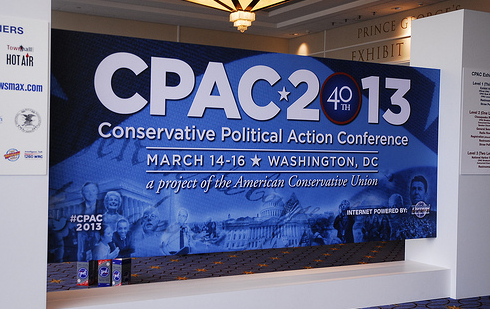 On Saturday, Breitbart hosted an unofficial panel at CPAC aptly titled "The Uninvited: A series of controversial speakers and panels." In their own words, the Breitbart panel was to "continue its tradition of leading conversations on issues the Republican establishment and the mainstream media refuse to address." According to them, the issues that were to be discussed included "illegal immigration, global jihad and radical Islam and the persecution of Christians around the globe."
However, the only thing the speakers, which included the likes of Pamela Geller, Frank Gaffney, and former Attorney General Michael Mukasey, seemed to have focused on was ignorant, demeaning, and Islamophobic speech laced with ridiculous claims such as Frank Gaffney's allegation that ex-Bush staffer and CPAC board member Suhail Khan, a Muslim, is the "prince of the Muslim Brotherhood."
Gaffney was not the only one to express his purported fear over the Muslim Brotherhood's infiltration of the United States, and apparently, the CPAC conference. Robert Spencer, a blogger at Jihad Watch, a site that has repeatedly been criticized for its promotion of Islamophobia, was awarded a standing ovation when he referred to Grover Norquist, president of Americans for Tax Reform who is married to a Muslim woman, and Suhail Khan as instruments of the Muslim Brotherhood.
"What I do know is that they're completely in bed with the same people Barack Obama is listening to to draft the entire foreign policy of the United States and domestic policy as well," he said.
He then went on to allege that President Obama is also unwaveringly aligned to the Muslim Brotherhood, saying, "Maybe you don't know, but Barack Obama has completely aligned this nation with the Muslim Brotherhood … Barack Obama is not stupid and we should give him credit for knowing what he's doing and for doing it on purpose."
Pam Geller, who accused Muslim conservatives of waging a "stealth jihad" also took a shot at Khan by saying he was more dangerous than the American-born Al-Qaeda leader. "Am I saying that Suhail Khan is as bad as [Anwar] al-Awlaki? He's worse" she said.
It's also important to note that all three of them, Gaffney, Spencer, and Geller, had been barred from officially participating at the conference because of prior personal attacks on Grover Norquist and Suhail Khan; apparently, they still haven't learned their lesson.
The ignorance, however, did not end with those three, unfortunately. Rep. King (R-Iowa) began the panel by referring to the former three as "the world experts on global jihad." He then went on to say that all derogatory terms in reference to Islam or Muslims have been "scrubbed out" by the FBI because of their Muslim advisers who must have told them they had to.
Former Attorney General Michael Mukasey also warned America of the big bad Muslims, saying "You may not be interested in Islamism, but Islamism is interested in you."
In fact, according to the Bush-era attorney general, "The vast majority of the world's 1.4 billion Muslims adhere to a view of their religion that agrees on the need to impose Sharia, or Islamic law, on the world," he said.
He also criticized the Obama administration for falling intoCPAC the traps of civil society groups such as the Council on American-Islamic Relations (CAIR) and the Islamic Society of North America (ISNA) both of who, according to Mukasey, are "a branch of the Muslim Brotherhood."
In the same breath, he also criticized former president Bush for calling Islam a "religion of peace."
Norquist brushed aside the personal attacks saying, "You can't get worked up about it, because they're not important enough to dislike … But it's sad … none of those people are part of the modern conservative movement. They never have been."
See also "Breitbart-sponsored panel of anti-Muslim activists claims their banishment from CPAC is 'stealth jihad'", Raw Story, 16 March 2013
And "Bush AG tells CPAC: 'The vast majority' of Muslims want to impose Sharia law", Salon, 16 March 2013