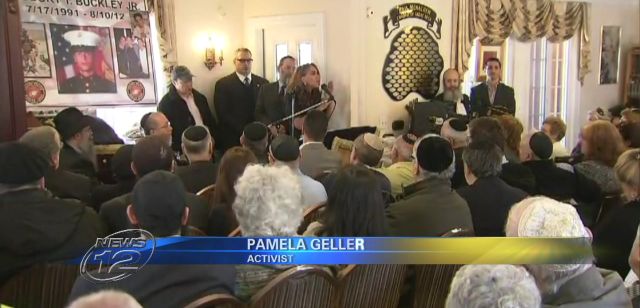 Pamela Geller, an outspoken activist known for her anti-Islamic terrorism viewpoints, spoke before a packed crowd this morning at Chabad of Great Neck in Long Island.
Geller's group, Stop Islamization of America, has been classified as a hate group by the Southern Poverty Law Center and the Anti-Defamation League.
Her speech was originally slated to be delivered at the Great Neck Synagogue, but was canceled. The synagogue claims the cancellation was due to security concerns.
"It is a sad day for Long Island," said the Muslim Center of LI Bay Shore Mosque in a statement. "Ms. Geller is not an expert on Islam. We would not allow an extremist Muslim to speak at a mosque."
It should be emphasised that Geller's hate campaign against the Muslim community has received little support from US Jews. Geller, for her part, dismisses most of the Jewish community as Obama-supporting liberals and denounces its leading figures as traitors assisting the "Islamic jihad" against America.
Following her speech, Geller and her supporters gathered outside the Nassau County Commission on Human Rights to demand the dismissal of commissioner Habeeb Ahmed, who they accuse of putting pressure on the Great Neck Synagogue to cancel Geller's original speaking invitation.
Update:  See Karen Rubin, "Geller good at playing media victim", The Island Now, 18 April 2013