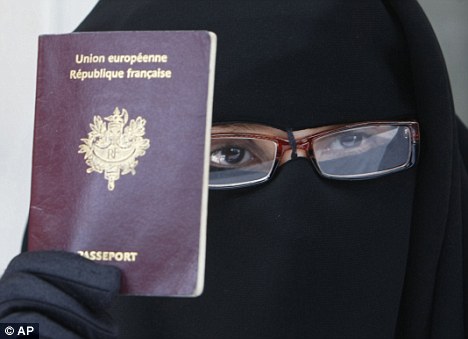 As France's parliament debates whether to ban burqa-like Muslim veils, one lawmaker compares them to muzzles, or "walking coffins." Another proclaims that women who wear them must be liberated, even against their will.
Amid little resistance, France's lower house of parliament will likely approve a ban on face-covering veils Tuesday, and the Senate will probably follow suit in September.
Polls show voters overwhelmingly support a ban. In parliament, criticism was mostly timid, and relatively few dissenters spoke out about civil liberties or fears of fanning anti-Islam sentiment in a country where there are an estimated 5 million Muslims, and where mainstream society has struggled to integrate generations of immigrants.
One obstacle, however, may still stand in the way of a ban: the courts. Law scholars say the ban could be shot down by France's constitutional watchdog or the European Court of Human Rights. That could dampen efforts under way in other European countries toward banning the veils.
Legislator Berengere Poletti, of Sarkozy's conservative party, argued that women in such garb "wear a sign of alienation on their faces" and "must be liberated," even if they say the apparel is their own choice.
Communist Andre Gerin, who also supports a ban, said that "talking about liberty to defend the wearing of the full veil is totally cynical – for me, the full veil is a walking coffin, a muzzle."
Socialist Jean Glavany, one of the few lawmakers to offer stinging criticism of a ban, said dwelling on questions of French identity and whether burqas are welcome in France "is nothing more than the fear of those who are different, who come from abroad, who aren't like us, who don't share our values." He was also one of several lawmakers to question the bill's "judicial fragility."
Associated Press, 12 July 2010
See also "French National Assembly debates burqa ban", WSWS, 12 July 2010 and "French entrepreneur offers to pay veil fines",Reuters, 12 July 2010