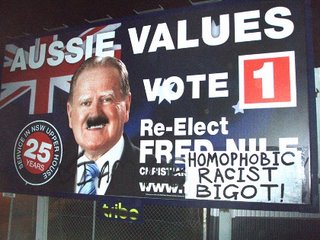 The Reverend Fred Nile will introduce a Bill to parliament calling for a ban on the Islamic burqa head and body veil.
The Christian Democrats MP wants NSW to follow France and other European countries, which have moved to ban women from wearing the full head and body covering in public. The private member's Bill will likely be introduced next Thursday.
"We should establish that in Australia we are an open society, that people don't cover up their faces. If they are involved in criminal activity they do," Mr Nile said yesterday. "They do it with the burqa, it is not part of our culture and tradition."
Muslim spokesman Keysar Trad attacked the proposed law, and said it was an attack on women's freedom. "Muslim women will be disgusted, especially that a man who is supposedly a man of God is telling them to remove items of clothing and telling them how to dress," he said. "While I don't advocate the face cover, I will defend the rights of any Muslim woman who wishes to wear it and if she doesn't choose to wear it, I defend her as well."
Mr Nile asked the State Government to ban the burqa eight years ago in a move that sparked a furore at the time. But his private member's Bill will almost certainly not succeed because he lacks the required numbers.
Mr Nile told parliament on Wednesday night there were also security fears as terrorists in the Middle East and Russia had launched attacks while concealing their identity under a burqa.