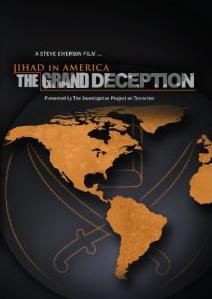 News Hounds reports that Fox News' latest contribution to the incitement of Islamophobia is its promotion of an Islamophobic documentary film called Jihad in America: The Grand Deception.
The film is produced by the Investigative Project on Terrorism, which is headed by Steve Emerson (listed in Fear Inc. as one of the "leading lights of the Islamophobia network"). It claims to expose:
"the covert structure and growing influence of the Muslim Brotherhood and Islamist groups, masquerading under the false moniker of being apolitical religious groups or civil rights groups in the United States, specifically how they are infiltrating or intimidating major societal institutions from Congress to Hollywood, from the mainstream news media to federal law enforcement, from the publishing industry to museums".
The parallels between this sort of anti-Muslim scaremongering and classic antisemitic conspiracy theories scarcely need underlining. Yet that didn't prevent Fox News anchor Megyn Kelly (who had earlier provided a boost to the demented David Horowitz) from giving credence to the claims in Jihad in America, along with a sympathetic interview with Steve Emerson himself (the self-proclaimed expert on terrorism who, you may recall, assured everyone that the 1995 Oklahoma City bombing was probably carried out by "Middle Eastern terrorists").