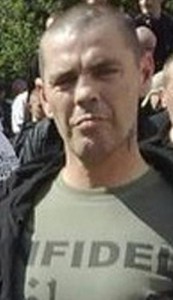 Two alleged far-right extremists from the North-East – including a former regional organiser of the English Defence League – have been arrested on suspicion of posting race-hate material online.
The men were among five suspects arrested by the North-East Counter Terrorism Unit in a series of raids across the UK yesterday.
Paul Duffy, 46, who was appointed regional organiser of the EDL in July 2010, was arrested in Elgin Avenue, Seaham, County Durham, on suspicion of public order offences.
Yesterday, neighbours said they were aware of a police presence at a semi-detached house in the street at about 7am, but did not wish to comment further. A woman living at the address which was searched told The Northern Echo: "It's a private matter. I do not wish to discuss it."
Meanwhile, Darren Yateley, 43, was arrested in Shrewsbury Drive, Backworth, North Tyneside, for the same offences and was later released on police bail.
Both are believed to be linked to the Infidels, a breakaway organisation from the EDL, whose Facebook page describes itself as an alliance of "right-wing nationalists, patriotic and loyalist groups from different parts of the UK".
Police also made arrests in Merseyside, Barnsley and London. An 18-year-old man from Merseyside remained in custody last night, as well as a 21-year-old man from Barnsley, South Yorkshire, and a 56-year-old man from Holloway, London. An address in Knaresborough, North Yorkshire, was also searched.