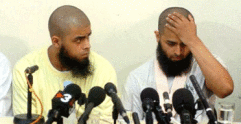 "First he heard a scream. The next thing Mohammed Abdulkayar remembered was making eye contact in the darkness with the man who stood at the bottom of the stairs. At that instant, without warning and, he says, without provocation, the police officer fired a shot which tore through his chest and exited through his right shoulder. He slumped against the wall, bleeding and senseless….
"Visibly distressed, with his wound still bandaged and with his arm in a sling, Mr Abdulkayar gave his first full account of the events of June 2…. 'I was begging the police "please, please, I can't breathe". He just kicked me in my face and kept on saying "shut the fuck up". One of the officers slapped me over the face. I thought they were either going to start shooting me again or were going to shoot my brother. I still didn't know that it was the police because they hadn't said a word about police'."
Hugh Muir reports on yesterday's press conference by the two innocent men targeted in the Forest Gate police raid.
For his part, Telegraph journalist Simon Heffer complains that "pacifists, anti-racists, radical Marxists, anarchists, anti-Blairists and others of varying degrees of conviction and opportunism" have "branded the two brothers in the Forest Gate raid 'victims' – a word used by the chairman of their press conference yesterday. It is a word that is clearly losing its force in our language. There seems to be a pursuit of moral equivalence with the more usual idea of a 'victim' of terror."