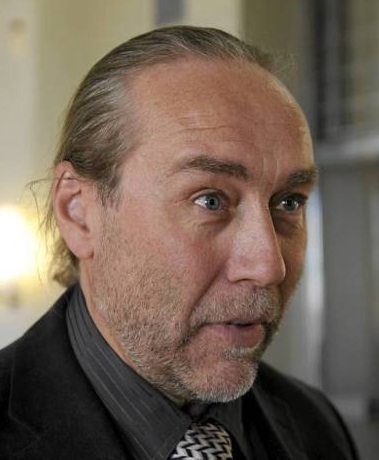 The governing council of the opposition Finns Party voted unanimously to expel controversial MP James Hirvisaari following his admission that he took a photo of a friend posing in a Nazi salute at the Parliament – and later posted it online.
The party leadership upheld a proposal mooted Thursday by a working committee to strip lawmaker James Hirvisaari of his party membership. The unanimous decision came Friday during a meeting of party leaders, and follows the latest in a string of misdeeds by the flambouyant politician.
In April 2012 Hirvisaari was suspended from the party's parliamentary group for refusing to sack an aide who suggested in a blog that non-Finns should wear a Nazi-style arm band to help police identify them. Following a public outcry, the aide, Helena Eronen, claimed that the article was tongue-in-cheek, however she later resigned of her own volition.
One year ago, police launched an investigation when Hirvisaari compared homosexuality to a disability in an online discussion group. At the time prosecutors felt that no crime had been committed. In 2011 a Kouvola appeal court upheld a sentence for inciting racial hatred for a blog about immigration in which the MP was found to have committed slander against Muslims. In other online writings Hirvisaari also commented that rape was a "genetic or cultural characteristic" of certain cultures.
The decision to expel the rogue MP has fueled speculation that party chair Timo Soini is attempting to clean up the party's image ahead of Europarliament elections in 2014 and Finnish parliamentary elections in 2015 – a claim that Soini has rejected. However, observers have also noted that in the past Soini has appeared reluctant to discipline party members who have openly espoused what many – including the courts – consider to be racist views.
Last June another high-ranking Finns Party MP, Jussi Halla-aho, failed in his bid to have Finland's Supreme Court overturn a conviction for inciting racial hatred and disturbing religious peace. He later resigned his position as chair of Parliament's Administration Committee – which oversees immigration matters – under pressure from other parliamentary groups. At the time, Soini had criticised Halla-aho's treatment by parliamentarians, calling it "unfair".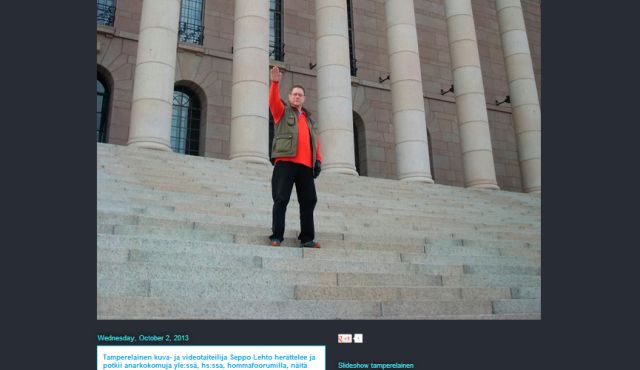 Hirvisaari's photo of his friend Seppo Lehto outside the Finnish parliament, posted on Lehto's blog
In the blog post that led to his 2011 conviction for inciting racial hatred, Hirvisaari wrote:
"Unfortunately, with rampant Muslim immigration to Finland, there will also be an increase in genuine racism, which will target especially the Jews, but also the native population and other ethnic groups. And on top of that, discrimination, unbearable arrogance and rude behaviour, anger, women's oppression, genital mutilation of children, sexual harassment, persecution of minorities, rioting, flag burning, disturbances, drugs, looting, rape crimes, paedophilia, polygamy, child marriages, shame-based violence, ritual slaughter, whippings, stonings and other thoroughly revolting and truly twisted practices and occurrences. Eventually, even suicide bombings and terrorism. That is, if we do not dance exactly according to their tune."