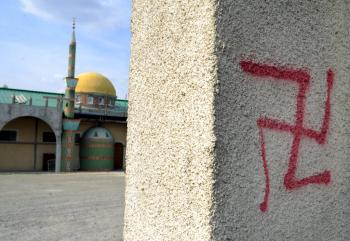 The Collectif contre L'Islamophobie en France has reported that a swastika and Celtic cross were sprayed on the entrance to a mosque at Agen, in southwestern France, last week.
CcIF notes that gunshots were fired at the same mosque in 2005 and that last year a mosque in nearby Villeneuve-sur-Lot was the target of an arson attack. In 2010 a mosque at Marmande, also in southwestern France, was sprayed with fascist graffiti.
See also La Dépêche and Europe 1.