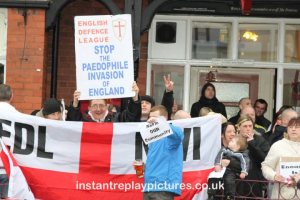 An historic Flintshire institution has condemned protests against plans to build an Islamic cultural centre in Deeside.
Gladstone's Library in Hawarden has voiced its support for the Flintshire Muslim Cultural Society's plans to set up the centre at the former Shotton Lane Social Club, which has been empty since it closed in August.
The proposals have been strongly opposed in some quarters, and more than 100 activists from far-right group the English Defence League marched through Shotton last month to protest against the plans. The British National Party is also against the proposed facility, which the FMCS says will benefit the whole Deeside community.
Gladstone's Library warden the Reverend Peter Francis condemned the protests. "This was an invasion of a few political extremists," he told the Chronicle. "Provoking community tensions in Shotton is an ugly smear on the reputation for warmth and hospitality that the Welsh deserve."
The Rev Francis remains hopeful people will show support for the plan. He said: "It will take more than this to cause real division, and I am confident that local people will stand up in support of their Muslim neighbours."
The Rev Francis said the library has recently launched its "Islamic Faith & Culture Project" to promote Christian-Muslim understanding. "It is precisely events such as this protest that prove the need for inter-faith and inter-community projects," he said.
The Rev Francis added: "This library was set up by William Gladstone as a resource for those who value knowledge and understanding over ignorance and victimisation. And we embrace unreservedly the meeting of faiths and cultures both within our walls, and within the wider community."