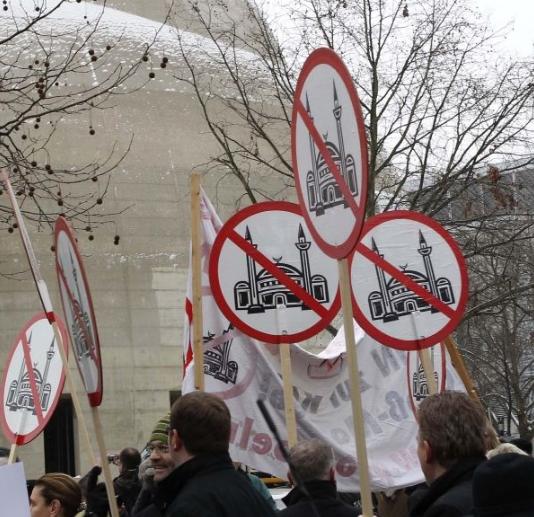 Several dozen right-wing extremists protested on Wednesday as the top beams were added to Germany's largest mosque under construction in the city of Cologne.
Ditib mosque federation said the building would not only be "a home for the Muslim community", but also a place to meet non-Muslims, at the topping out ceremony which traditionally marks the moment a building's roof structure is completed. "This construction is not a one-way street – just like the process of integration itself," said the Muslim federation.
The mosque, designed for 1,200 people, features a 37-metre-high dome and two minarets standing 55 metres tall. The final site, occupying 5,000 square metres, is to include a cultural centre and meeting point.
"Interreligious and intercultural dialogue will be revitalized by this mosque," said Bekir Alboga of Ditib. He stressed that non-Muslims were also welcome to attend the sermons, which would also be translated into German.
Building work began in November 2009, after people in Cologne criticized the proposed mosque for being too big and staged a series of anti-Islamic demonstrations. Lale Akguen, an author and former parliamentarian of Turkish origin, on Wednesday reiterated the criticism and said Ditib intended the mosque to be a symbol of power. "The construction will cement parallel communities," the Central Council of Ex-Muslims feared.
However the mayor of Cologne, Juergen Roters, rejected the criticism. "If Muslims in Germany build large, representative mosques, this is a sign of normality," Roters said.