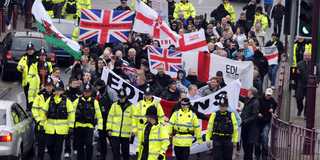 About 100 members of far-right group the English Defence League descended on Shotton to protest against plans for a new Islamic cultural centre in the town.
Dozens of North Wales Police officers were out in force on Saturday (January 22) to ensure the protest passed peacefully.
EDL campaigners marched through the town centre to the site of the former Shotton Lane Social Club, where the proposed centre would be built if the Flintshire Muslim Cultural Society successfully raises the £150,000 needed to buy the venue.
Campaign group Unite Against Fascism had strongly criticised the protest. National officer Martin Smith said: "The UAF deplores the EDL's protest against building a cultural centre. Instead of spreading lies and hate against the Muslim community in Britain, we believe we should be able to celebrate anybody's culture and live a life free of hate and bigotry."
Flintshire Chronicle, 24 January 2011
See also The Leader, 24 January 2011
Update:  See "Flintshire Muslim Cultural Society accuses English Defence League of stirring racial tension in Shotton", Flintshire Chronicle, 27 January 2011