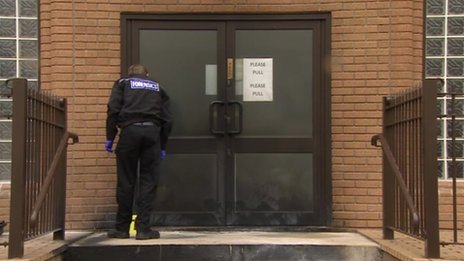 Two men have admitted an arson attack on a Gloucester mosque. Clive Michael Ceronne, 37, and Ashley Henry Juggins, 20, both pleaded guilty to arson being reckless as to whether life was endangered.
The pair attempted to set fire to the Masjid-E-Noor in the city's Ryecroft Street on June 18 this year. Ceronne, a former security guard of Redwood Close, in Gloucester and Juggins, of Brooklyn Road in Cheltenham will be sentenced at Gloucester Crown Court on November 18.
The court previously heard the pair had bought lager, vodka and a petrol can of fuel from a London Road garage before using the fuel to set fire to the place of worship by owned by the Muslim Welfare Association. A passer-by saw the fire and helped put it out, before severe damage was caused. The attack came in the wake of the death of Drummer Lee Rigby.
The pair both denied a more serious charge of arson with intent to endanger life. Prosecutor Peter Combe said this was acceptable to the crown when Juggins appeared via video link and Ceronne in the dock.
Judge Jamie Tabor QC ordered a pre-sentence report on the pair prior to their return to the same court next month. He said: "You have both pleaded guilty to a very serious offence. I will however order a pre-sentence report, but I make it quite plain I am certainly not tying the hands of myself or anyone else by doing so."
They were remanded in custody.
Gloucestershire Echo, 11 October 2013
---
Clive Cerrone (the correct spelling of his name) is the Gloucestershire district officer of the New British Union, a group of Mosley-admirers led by Gary Raikes. For Cerrone's views on Muslims, see here. In addition to "Clive Gloucestershire" he reportedly also uses the Facebook alias "Clive South".
In July 2011 one Facebook friend of Clive Gloucestershire responded to the killings carried out by Norwegian mass murderer Anders Breivik by posting the following comment on his wall: "if he was like us… he wouldn't have killed his own ppl… makes no sense… a mosque full of muslim retards-yes". Clive Gloucestershire even admitted to having met Breivik at an EDL demo, before stating that he'd been told to keep quiet about it.
Ashley Juggins has a Facebook page in the name of "Thejuggernaught Swi" and was associated with the EDL breakaway group the South West Infidels, until they took exception to his expression of support for Jimmy Savile. Juggins attended the EDL's Manchester protest in March this year, describing it as "a really great day".