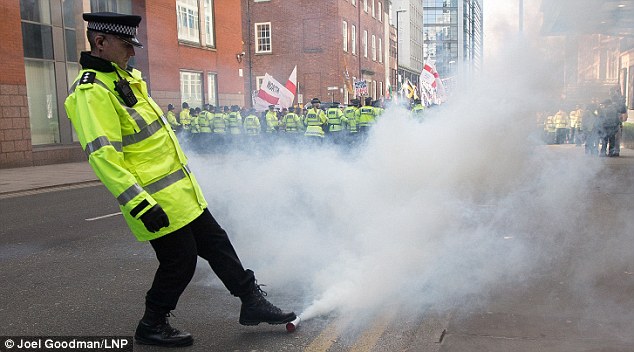 A march by the far-right English Defence League in Manchester on Saturday closed much of the city centre to traffic, but passed off with only a handful of arrests after a smaller than expected turnout.
Around 300 police officers were on hand to monitor what had been called a "national gathering" for the group, which claims to stand against Islamic fanaticism. But in the event the police matched, if not outnumbered, the EDL marchers, who carried flags of St George and anti-Islam banners, while a counter-demonstration by the leftwing group Unite Against Fascism (UAF) attracted a bigger crowd.
Two people were arrested over an incident when bottles and coins were thrown at a UAF protester who unfurled a "Nazi Scum" banner, and a woman was arrested for climbing onto a police van.
Onlookers reported seeing several fights breaking out between different factions of the EDL, including a fight at Victoria train station that had to be broken up by police and saw a further four people arrested.
See also Morning Star, 3 March 2013
And "Five charged following EDL protest in Manchester", ITV News, 3 March 2013
---
The fact that around 600 protestors turned up in Manchester (even if some of them reportedly stayed in the pub and missed the march) was enough for the EDL to hail the event as a "great success" which supposedly marked the "rebirth" of the movement. However, while attendance was certainly up on that at the EDL demonstration in Cambridge last week, it was still well down on what the EDL was able to achieve at its peak.
Moreover, the improved turnout was only achieved by the EDL mending fences with groups like the Infidels who it had earlier denounced, entirely accurately, as neo-Nazis. Now, in a desperate attempt to arrest the decline of the movement, these unabashed fascists and white supremacists have been welcomed back to the fold ("all patriots united as it should be", as the EDL put it).
While the participation of such forces boosts numbers at demonstrations, their open alliance with the most extreme sections of the far right is just going to raise further problems for the EDL leaders. Their spurious claim that the organisation is neither violent nor racist is rendered even more ridiculous when their supporters happily march alongside a National Front member who regards Anders Breivik as an inspiration.