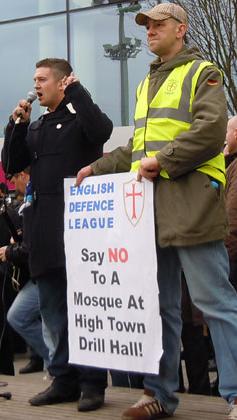 The leader of the English Defence League has said he "utterly condemns" attacks on Muslims.
Tommy Robinson denied claims his group had firebombed an Islamic community centre in London, where the letters EDL were sprayed on the building. He told the BBC the graffiti could have been placed there to make it look as if the group was responsible.
Mr Robinson told BBC Radio 4's Today programme that he condemned all acts of violence by EDL members and the group was about peaceful protest.
He denied his group was behind the blaze in Muswell Hill last week. "If something was set fire and someone wrote David Cameron on the side of it, does it mean he did it?" he said. "If I'm honest, I'm completely sceptical that it is even non-Muslims that have done that."
Mr Robinson told the BBC that "non-Muslim working-class communities" did not have a voice and warned "it's not going to end pretty". "There is a massive undercurrent of anger across this country," he said.
While he acknowledged the EDL's tactics were "completely questionable", he said the group had no choice. "What choice do we have as working-class people?" he said. "As soon as you put your head above the parapet you are called a racist or a fascist. Who wants to sit down and talk to us?"
He called for the internment of Islamist extremists "recruiting on our streets" and the outlawing of all aspects of Sharia law, which he believed was operating in the UK. "I'd stop the building of mosques in this country until Islam reforms in such a way and works in this country with Western democracy and freedom," he added.
Update:  See also "EDL leader's interview on Radio 4's Today draws fierce criticism", Guardian, 11 June 2013
And Mehdi Hasan, "Ten questions that Sarah Montague could have asked the EDL's Tommy Robinson", Huffington Post, 11 June 2013
---
Here is what Lennon told his followers at the EDL's Tower Hamlets demonstration in September 2011:
"Islam rules by intimidation and violence. And as I've said we are here today to tell you quite loud, quite clearly – every single Muslim watching the video on YouTube – on 7/7 you got away with killing and maiming British citizens, you got away with it. Next time you think about it, you better understand that we have built a network, from one end of this country to the other end. We will not tolerate it. And the Islamic community will feel the full force of the English Defence League if we see any of our citizens killed, maimed or hurt on British soil, ever again."
And here is a selection of comments posted on the EDL Facebook page after Lennon and EDL co-leader Kevin Carroll spread the lie that Muslims in Oldham had publicly celebrated the murder of Lee Rigby.
Yet Lennon now claims that the violent post-Woolwich backlash against Muslims has nothing to do with the EDL.
Update:  See also Sunny Hundal, "How EDL leader misled BBC about condemning attacks on Muslims", Liberal Conspiracy, 12 June 2013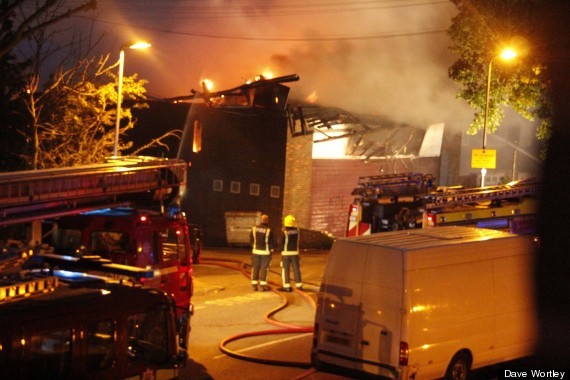 The fire at the al-Rahma Islamic Centre in Muswell Hill, with the letters "EDL" clearly visible on the wall of the burning building