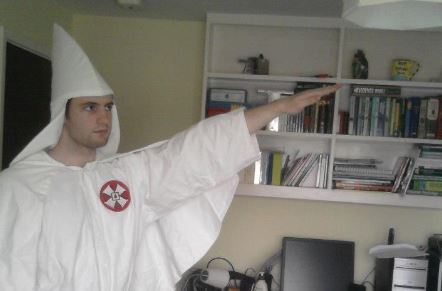 A racist who admitted posting a video online showing someone in a Ku Klux Klan costume hanging a life-size golliwog doll was this afternoon jailed for one year.
Christopher Philips, from Wolverhampton, who used a series of pseudonyms and even impersonated mass murderer Anders Behring Breivik had pleaded guilty to posting three videos online, which were filmed at a music concert and intended to stir up racial hatred. The court was previously told the event had been organised by an extreme right wing group in West Wales in March.
Philips – who was formerly known as EDL supporter – was arrested later that month following an investigation by the West Midlands Counter Terrorism Unit. The 23-year-old also faced a second charge of using words or behaviour intending to incite racial hatred, but it was left to lie on file after he pleaded not guilty.
During his sentencing today at Wolverhampton Crown Court it was revealed Philips had a Ku Klux Klan outfit in his room.
Judge John Warner told him: "Publication of this material which has particularly historical connotations would have been deeply offensive to many people."
Det Insp Darren Powney, senior investigating officer for the CTU, said: "We understand how offensive and distressing this type of material can be and we worked with the Crown Prosecution Service to bring Philips before the courts at the earliest opportunity. We urge anyone with concerns about extremist behaviour of any kind to contact police on 101."
Express & Star, 8 January 2014
See also "Racist thug who made white supremacist salute while leaving court after admitting to wearing Ku Klux Klan outfit in YouTube videos is jailed", Daily Mail, 8 January 2014
And "Jail for man who wore Ku Klux Klan outfit and posed with lynched golliwog", Guardian, 8 January 2014
Also "Man sentenced for stirring up racial hatred", CPS news brief, 8 January 2014
Update:  See "Father killed himself after racist Wolverhampton son accused", Express & Star, 16 January 2013