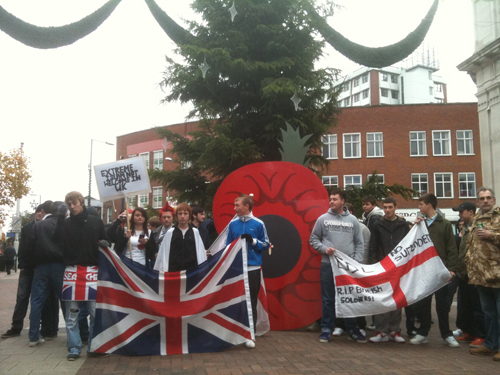 The protest that preceded the attack on the mosque
A rowdy, threatening mob that attacked Kingston Mosque with baseball bats and left worshippers inside in fear were caught on CCTV, a court has heard.
Nine men accused of the racially aggravated attack on the mosque on November 21, 2010, appeared at Kingston Crown Court on Tuesday, March 6, to deny the charges against them.
During the violence, 20 to 30 masked and hooded men waved pieces of wood, urinated in the foyer and laid bacon on a car and the mosque, the court heard. A bottle was thrown at a window and a liquid poured on a car, it was alleged.
The attack came hours after a peaceful English Defence League rally through the town centre protesting about the burning of poppies. Prosecutor Goopal Hooper said: "It was a rowdy threatening mob which advanced on the mosque. As they did so, residents and people using the street saw them and as you can imagine were quite frightened."
Camcorder footage filmed by one of the men inside the mosque from a top window also caught the group retreating and was used to identify some of the alleged attackers, the court heard. The jury was shown CCTV images which the prosecution claimed identified each of the men involved. Star-shaped neck tattoos identified Martin Pottle, 23, it was claimed.
Mr Hooper alleged a photo found on the phone of David Morris, 21, captured Alfie Wallace, 19, holding a piece of wood near the mosque.
The men allegedly involved also included Terence Earl, 32, Adam Khalfan, 19, Paul Abley, 24, Karl Matthews, 21, Jordan Ellingham, 21, and James Stacey, 19. All men deny violent disorder, affray and racially aggravated damage.
Kingston Guardian, 6 March 2012
See also "Police left mosque minutes before attack, court hears",Kingston Guardian, 6 March 2012