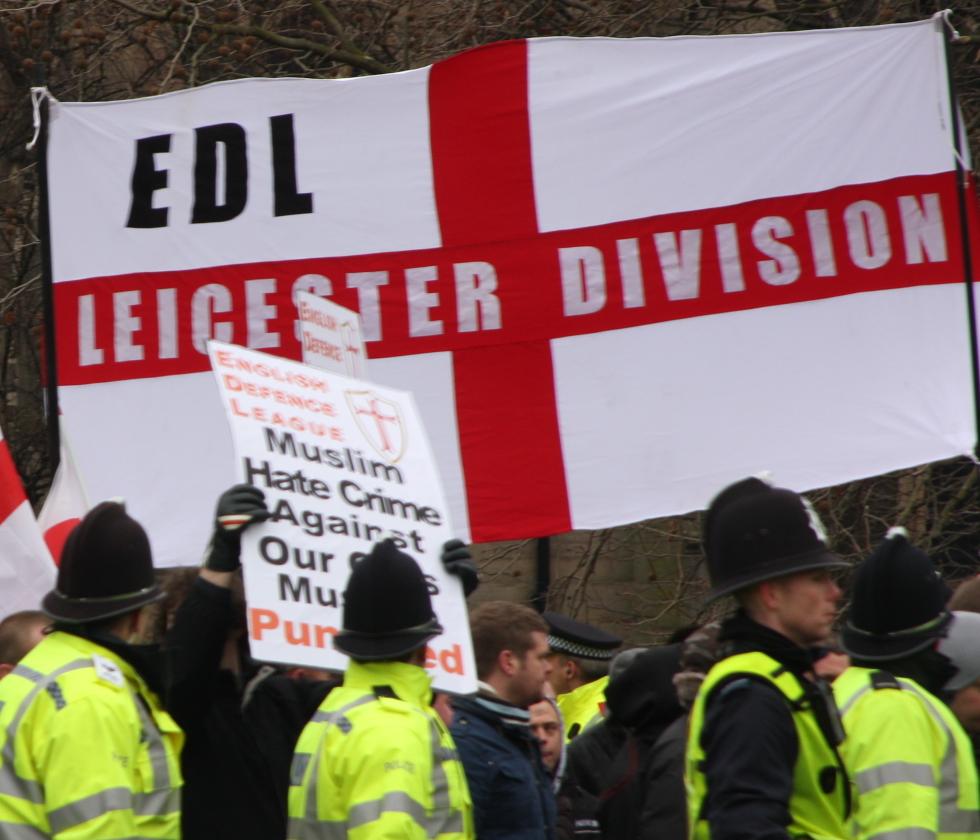 A 16-year-old neo-Nazi plotted a Columbine-inspired school massacre using pipe bombs, knives, and a crossbow, the Old Bailey heard today (Weds).
The English Defence League supporter stockpiled homemade bombs, terrorist manuals, and an array of weapons as he planned attacks on his former school and the college where he was studying for his A-Levels.
He kept a notebook of potential targets, including the local mosque, REEL cinema, Loughborough University and council offices, and dubbed plans for an armed assault on his former school as "the new Columbine", it is said.
Inspired by the violent Nick Cave film Outlaw and Heath Ledger's portrayal of Batman nemesis the Joker in The Dark Knight, the teen allegedly drew up a list of teachers and pupils he wanted to murder.
He scrawled the mantra "When order fails, violence prevails" in his notebook, which had Cuban revolutionary Che Guevara on the front alongside slogans including "EDL: No Surrender", "British and Proud", and Nazi Swastika drawings. The teenager, who is now 17 and cannot be named because of his age, had a Nazi flag above his bed and wrote essays on his hatred of Muslims.
"You will be considering whether he is just a misfit, or whether he is something altogether more sinister and serious", said prosecutor Max Hill QC. "In light of the items he assembled, bombs etc, in light of what he wrote in this notebook, you need to consider whether he was in fact arrested in February this year before he could pursue any further a plan for, or intention, either to terrorise pupils and staff at his college against whom he bore a grudge, or whether he wanted to target other locations."
The teenager, who has Asperger's Syndrome, is accused of plotting a terrorist attack, having a terrorist manual, and possessing parts for an improvised explosive. He and two other 17-year-old boys have already admitted possessing petrol bombs and pipe bombs.
Mr Hill said the "sheer weight" of weapons the defendant is accused of possessing at his home in Loughborough set him apart from the other two boys. "For any average young man, that list is startling", he said. "The eye stops at references to partially assembled petrol bombs, it stops upon the reference to pipe bombs, and upon the stab proof vest, on firearms and rifle pistols and the crossbow."
The jury were shown extracts from the teenager's notebook, allegedly outlining his attack plans. He wrote: "Before we go into school gates, enter K block and chain both exits shut. Enter each classroom taking out the teachers. Use explosives to eliminate most of the students."
Mr Hill said: "What does he mean by plans and tactics for operation the new Columbine? Columbine is a high school in Colorado, USA, which was the scene of an infamous mass shooting in 1999. Two students of the college entered and killed more than a dozen of their fellow students and ultimately committed suicide on their own school premises."
The defendant, had drawn in his notebook a stick figures with arrows showing where knives, a machete, a sawn-off air rifle, ammunition, and pipe bombs would be concealed inside a trench coat, the court heard. Mr Hill said other parts of the book contain rantings against Muslims, calling for mass deportation to "stop the spread of Sharia law".
"He is talking about British and European people rising up and fighting Islamic fascism that is sweeping the world", said Mr Hill. "He is a member of the EDL Leicester division and a supporter of the Knights Templar, which we suggest are far right wing British National movements."
In among plans to make bombs out of jerry cans, which could be detonated by mobile phone, the teenager wrote about planning to bomb Loughborough Mosque, the court heard. He wrote: "There's too many Muslims in the UK and Europe, so we must stop them coming over here and send the ones already over here back home before they take over European governments and put Sharia Law in place."
The teenager, who is supported in the dock by an intermediary because of his Asperger's, denies possessing an article for a purpose connected with terrorism, possessing a document likely to be useful to a person committing or preparing an act of terrorism, and possessing an article for a purpose connected with terrorism. He has pleaded guilty to possessing an offensive weapon.
The trial continues.
Loughborough Echo, 2 October 2013
See also "Loughborough teenagers in court on terrorism charges", Leicester Mercury, 27 March 2013
Update:  See Daily Mail, 2 October 2013