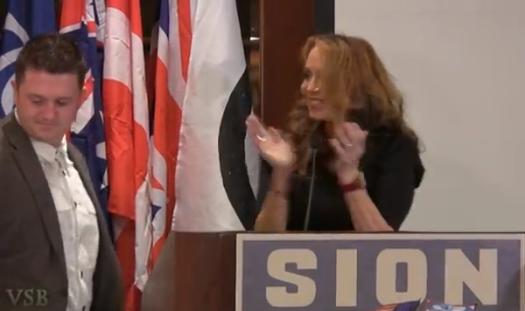 Pamela Geller welcomes illegal immigrant Stephen Lennon to New York
The leader of the English Defence League has been jailed for using someone else's passport to get into the United States. Stephen Lennon, 30, pleaded guilty to possession of a false identity document with improper intention, contrary to the Identity Documents Act 2010, at Southwark Crown Court.
Lennon used a passport in the name of Andrew McMaster to board a Virgin Atlantic Flight from Heathrow to New York, but was caught out after his fingerprints were taken by customs officials. He left the airport and entered the US illegally but left the country the following day, using his own passport to return to the UK.
The court heard that Lennon, who had previously been refused entry to the US, used his friend's passport to travel to the country in September. He used a self check-in kiosk to board the Virgin Atlantic flight at Heathrow, and was allowed through when the document was checked in the bag drop area. But when he arrived at New York's JFK Airport, customs officials who took his fingerprints realised he was not Mr McMaster. Lennon was asked to attend a second interview but left the airport, entering the US illegally.
He stayed just one night and travelled back to the UK the following day using his own legitimate passport – which bears the name Paul Harris. The court heard that is the name that appears on the EDL leader's passport, although he uses aliases.
Lennon, who was arrested in October, was jailed for 10 months. The court heard that he was previously jailed for assault in 2005 and also has previous convictions for drugs offences and public order offences.
See also "EDL leader Stephen Lennon jailed for false passport offence", BBC News, 7 January 2013
Lennon travelled to New York in September 2012 in order to attend the International Freedom Defense Congress organised by Pamela Geller and Robert Spencer's Stop Islamization of Nations (SION). Is Geller asking us to believe she didn't realise that her star guest – who as both Sky and the BBC note had previously been barred from entering the US – could only have secured entry to the country by illegal means? Hopefully the US authorities will be investigating Geller's role in this.
Update:  Over at Atlas Shrugs Geller expresses her outrage at Lennon's sentence:
"It is stunning that the UK has degenerated to such depths. Freedom is no longer a reality, but a defeated idea undone by cowardice and capitulation of [sic] Islamic thuggery and violence. Tommy Robinson, my colleague and board member of SION, is a political prisoner in the UK, imprisoned for standing up for freedom and equality of rights under the law. I stand with Robinson."
However, a number of critics – whose comments will no doubt soon be deleted – question Geller's assessment of the situation:
"If he entered the us illegally and had a foreign name he would be in guatanamo, but he got 5 months in a uk jail and 5 months license, big deal…he broke the law and paid for it. If he was a 'political prisoner' then why plead guilty? Truth is that he is nothing more than a drug dealer and wife beater that was stupid enough to try entering the US illegally."
"I guess the fact that he committed a crime doesn't enter into the equation. No, the evil Muslim conspiracy is silencing him because he's doing SUCH a good job of endearing the EDL to the public."
And the following pertinent comment is addressed directly to Geller herself:
"Who paid for his flight tickets? He said you did. This means you bought a ticket for someone you knew was using false documents."